3 Pack Hair Detangler Brush for Afro America/African Hair Textured...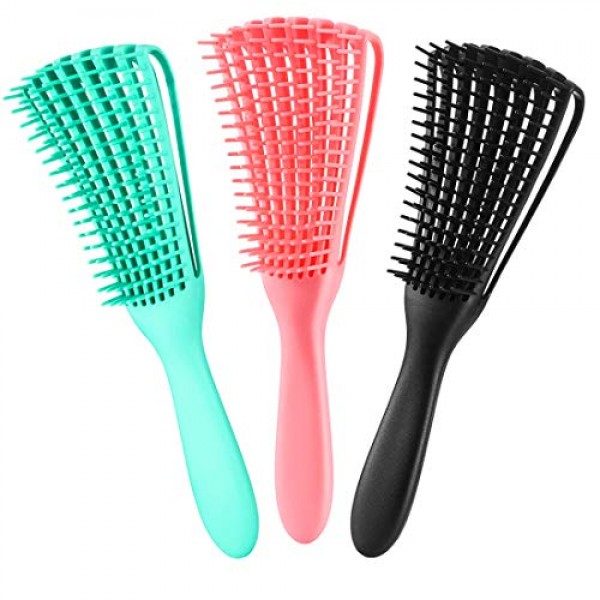 3 Pack Hair Detangler Brush for Afro America/African Hair Textured 3a to 4c Kinky Wavy/Curly/Coily/Wet/Dry/Oil/Thick/Long Hair, Detangling Brush for Natural Hair, Exfoliating Your Scalp for Beautiful
????DETANGLING EASILY: come with 3 pieces detangler hair brushes, and each piece with a detachable bracket at the back, Flexible head with 8 rows of separate ultra-soft nylon bristles that glide through tangles and knots with ease. The bristles gently massages the scalp while stimulating blood flow and strengthening your hair.
????THE HEALTHY AND PAINLESS WAY TO BRUSH HAIR: Our hair brush detangler is designed brilliantly to minimize pain and to protect hair against split ends and breakage. can easily detangle matted curly, wavy, coily, kinky, thick, long and natural hair without damage. Feel less pain on scalp, saves more time in detangling your hair.
????INTIMATE DESIGN: Detangler brush for women with a detachable bracket for fixing and stretching the bristle, whose back has 2 slots, different heights according to the hair condition.
????FOR WHOM: If you have super curly 3a to 4c African American hair, this easy detangler brush is the perfect tool for you, its flexi bristles detangle your wet/dry hair with conditioner/oil applied smoothly and easily. If you have normal tangle or very long thick hair, this brush can also be your choice.
????PERFECT FOR ALL HAIR TYPES: Doesn't matter if your hair is long or short, curly or straight, thick or fine, this brush will run through any hair type removing tangles while making the hair soft. It works great on wet or dry hair and is perfect for men, women and kids.