First Alert LT1 Premium Lead Test Kit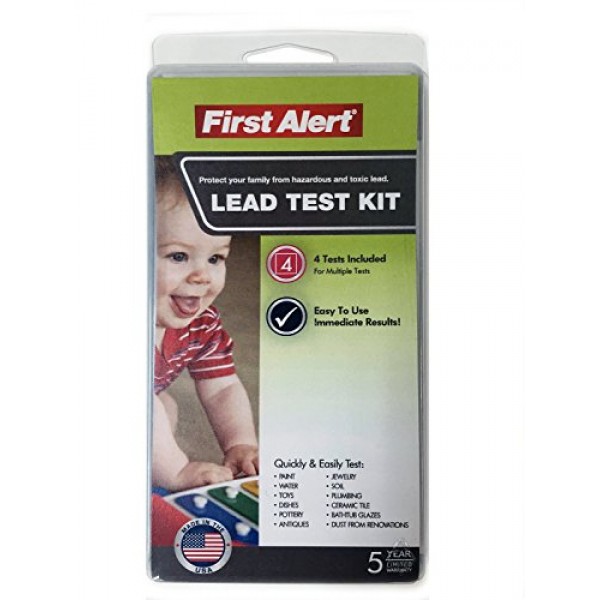 This complete test kit can be used to easily check for poisonous lead on any surface including: toys, dishes, paint, dust, mini-blinds, food cans, plumbing, water, and other items. The kit can be used in your house to test up to four separate surfaces for lead content and provides immediate results.
1) Wipe the toy clean
2) Dip the enclosed cotton swab into the solution provided
3) Rub it on the toy
If the cotton swab changes color - it contains lead. With each First Alert Lead Test Kit you can test at least 4 surfaces making it the most economical solution on the market.
Lead is very poisonous to human beings. Even tiny amounts of it in our blood, measured in millionths of grams (micrograms), can harm our health. Children absorb more lead than adults and are at a higher health risk. More than one million American children may have blood lead levels needing medical attention, and more than one million children may be somewhat mentally or emotionally impaired by lead exposure. If you are concerned about the potential for lead containing surfaces or items in your home, the First Alert lead test kit can be used to confirm or deny your suspicions. --Bree Norlander
What's in the Box
Lead test kit materials that will test at least four different surfaces and user's manual

Test for lead on you toys, dishes, jewelry and many other surfaces
Test can be performed on at least 4 items
Test provides immediate results
No laboratory testing fee necessary
Kit includes all test materials