Sorbus Kids Foldable Teepee Play Tent Playhouse Classic Indian Sty...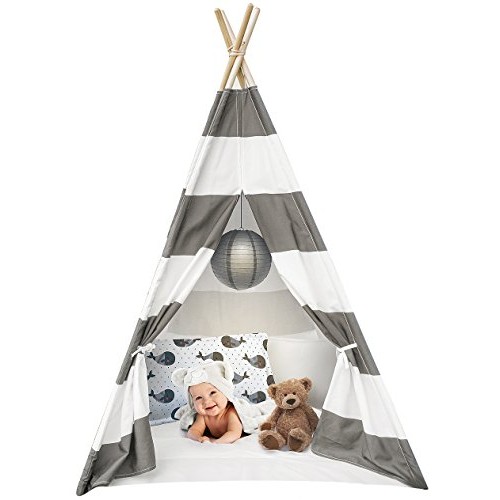 Sorbus Kids Foldable Teepee Play Tent Playhouse Classic Indian Style Play Tent and Carry Bag, Walls with Door, Window and Floor (White and Gray)
Bring on the snacks, stories, and smiles with the Sorbus Teepee Tent!
Give your kids a cozy place to lounge and play for hours of fun. This teepee tent features a foldable frame, crawl in entrance, and peep through window where parents can keep an eye on the action. Kids can close the tepee door for privacy or keep it open to invite friends into their imaginary house. It's spacious enough to enjoy role play, sleepovers, and indoor camping adventures! Designed with classic rugby style stripes, it adds a decorative touch to your child's room while giving them their own little fort-like experience.
This adorable teepee tent is versatile for any room with a convenient carry bag for travel or storage.
Whether it's a magical cave or used to play dress-up, kids will love playing in this teepee tent. Display it in the nursery or bedroom filled with pillows and blankets or in a common play area complete with books and toys. When it's time to travel, use the convenient carry bag to transport your teepee anywhere from the basement, to grandma's house, to play dates with friends. It's also a great addition to school daycares, parties, and much more! For special occasions, it makes a creative gift for Birthdays, Christmas, and Holidays, and of course, any kid will love you for that!
Enjoy a lightweight design that is easy to assemble and dissemble!
It's durably constructed from soft polyester/cotton /canvas material to last through countless years of imaginative play. Poles made of 100% natural pine. Indian style design has decorative round window and 2-flap front door openings with tiebacks. Environmentally, kid, and pet friendly. No flame retardant. No chemicals. Machine or hand wash. Recommended for ages 2-7. Measures approximately 43" L x 43" W x 51" H
TEEPEE PLAY TENT (GRAY) - Adorable play tent for kids features crawl in entrance and peep through window for hours of fun
FUN STYLE FOR ANY ROOM - Provides your child with their own little fort-like room - Makes a fun or private place to play, sleep, read, or enjoy quiet time - Peep through window allows kids to look out and parents to look in - Great for kids teepee and playhouses in nursery, bedroom, playroom, living room, school daycare, play areas, and much more -Makes the perfect gift for Birthdays, Parties, Christmas, Holidays, etc
PORTABLE CARRY BAG - Includes convenient carry bag for those on the go - Tent easily closes and can be packed in carry bag for travel or storage - Lightweight for easy transportation - Take anywhere from the playroom, to grandma's house, to sleepovers
EASY SET-UP - Easy to assemble and dissemble - Poles are easy to set up without any tools - Adult Assembly required - Recommended for indoor use, but can be used outdoors if protected from elements and extreme temperatures
KID & PARENT FRIENDLY DESIGN - Indian style design with classic rugby stripes - Has charming round window, 2-flap front door openings with tiebacks, and attached bottom mat - Tent made of polyester/cotton (35/65%) canvas - Environmentally friendly, no flame retardant - Poles made of 100% natural pine - No chemicals, both kid and pet friendly - Machine or hand wash - Recommended for ages 2-7 - Overall Measures approximately 43" L x 43" W x 51" H