JOYIN Kids Camping Set with Tent 40+ pcs Camping Gear Tool Pretend...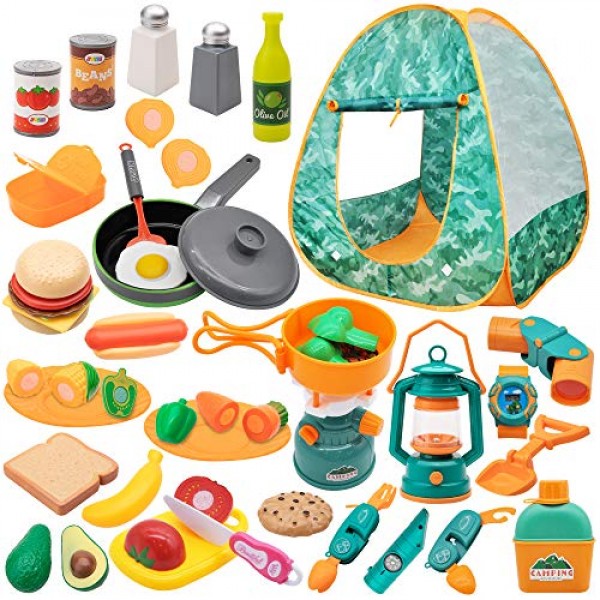 JOYIN Kids Camping Set with Tent 40+ pcs Camping Gear Tool Pretend Play Set for Kids Toddlers Indoor and Outdoor Toy Birthday Gift
SUPER VALUE PACK. Our Little Camping Set lots of necessaries for little campers or hikers need to set up to start their camping adventure includes Unique camouflage style pop up tent. Battery powered pretend gas stove and oil lamp, water bottle, binoculars, shovel, 4-in-1 emergency whistle with functions of flashlights, compass, and thermometer.
MORE FUN WITH PRETEND PLAY UTENSILS AND FOOD. The set includes more than the camping gear. It comes with pretend camping utensils including a cutting board, utility knife, colorful play pots & pans with play kitchen utensils and plates. Pretend food includes food that can be cut, including broccoli, green pepper, onion, tomato, carrot, corn. More food includes avocado, bread slice, cheese slice, hamburger, hot dog, cookies, banana. Seasoning includes soybean sauce, olive oil, tomato sauce.
ENDLESS FUN. Get your kids up and out of the house and let them explore and experience the great outdoors with these camping toys that'll bring the fun. This makes your kids pretend camping experience is the best. Children's imagination knows no limits. Let them experiment and learn something new during playtime.
PREMIUM QUALITY. Child Safe: Non-Toxic. Meet the US toy standard. Safety test approved.
CUSTOMER SATISFACTION. Providing a 100% satisfaction experience is our main priority to our customers. Feel free to message us through "contact sellers" if products don't meet your expectations. The celebrations start at JOYIN!