Easy Playhouse Fairy Tale Castle - Kids Art and Craft for Indoor a...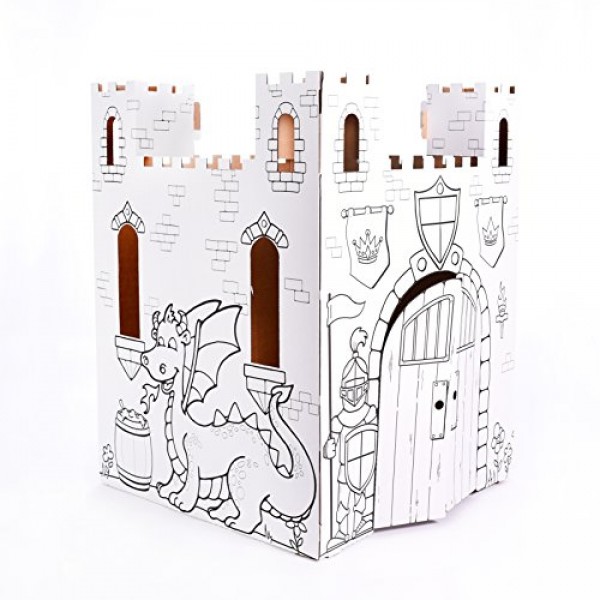 Easy Playhouse Fairy Tale Castle - Kids Art and Craft for Indoor and Outdoor Fun, Color, Draw, Doodle – Decorate and Personalize a Cardboard Fort, 32" X 32" X 43. 5" - Made in USA, Age 3+, White
PERSONALIZE YOUR CASTLE - Your child can color and customize their Castle, bringing a favorite magical Dragon to life (FIRE!) and a Queen (Your Highness!). Can the cute little mouse be found? Use stickers, markers, crayons or paint (not included) on this fun canvas to bring the fortress to life.
EXPLORE AND IMAGINE LIFE in the MIDDLE AGES / MEDIEVAL TIMES - This castle creates the perfect fort, house, tent to pretend, while also acting as a great place to read stories inside for even more adventure fun. Enjoy role playing with this cardboard fort- don't forget to invite your friends over to defend the castle, have a royal party, or race around playing tag. This can also be a great group activity for kids!
WINDOWS, DOORS & MAIL DELIVERY - Ding Ding! Insert mail through the windows from the outside or push the mail out from inside the house too or leave in front of the castle door - it is always fun to give & receive letters! Features two fold out doors, four larger windows, 4 turrets & eight small windows come and go as Kings, Queens, & Knights do, plus wave "Hi" to all of our friends who pass.
MADE IN THE USA - Sturdy and Durable for Indoor & Outdoor Play; Easy to Put Together with Assembled Dimensions: 32" X 32" X 43. 5" - over 3 ft tall.
GIFT FOR BIRTHDAYS, HOLIDAYS, THOSE SPECIAL MOMENTS THAT MAKE US SMILE: A great gift for boys and girls! For hours of play time with parents or grandparents or siblings or even independent play. A hands-on learning art & craft to stimulate creativity, fine motor skills and hand-eye coordination.