Childrens Factory Crawl Through Soft Play Tunnel, Foam Indoor Tod...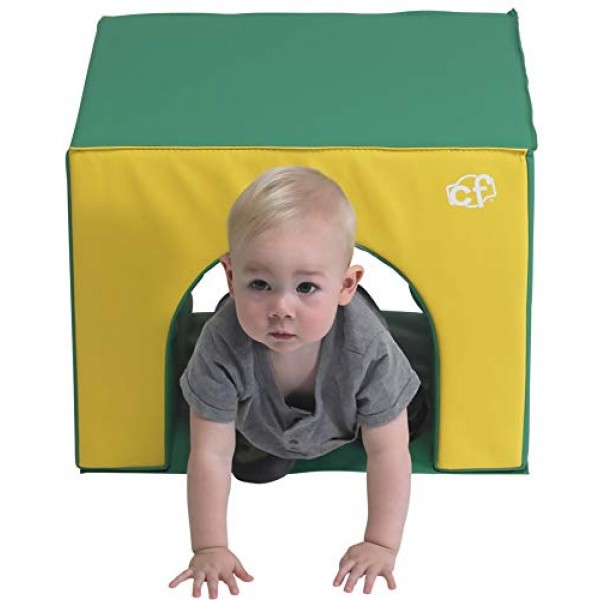 Children's Factory Crawl Through Soft Play Tunnel, Foam Indoor Toddler/Baby Climbing Toys, Baby Crawling Toy for Playrooms/Homeschools/Classrooms
IN HOME LEARNING WITH SOFT PLAY EQUIPMENT: The Crawl Through Tunnel is a great start for parents who want to create a soft play zone in their child's playroom or homeschool. Babies, infants and toddlers who need to practice crucial developmental skills, such as balance and coordination, will enjoy the adventure of climbing, crawling, jumping and sliding on soft foam play equipment. This piece can easily be partnered with other Children's Factory playsets to complete your vision for an awesome play space. We suggest Mikayla's Mini Mountain or a simple Up and Down 2 Piece Play Set are great options. (Amazon Item#'s B000K2GDL8 and B082VXKWP9.)
EASY TO CLEAN VEGAN LEATHER: All foam blocks are covered in a soft, eco-friendly, vegan leather material you can easily wipe clean with soap and water. This tunnel comes in Primary (shown here), Woodland or Contemporary colors.
UL GREENGUARD GOLD CERTIFIED: Children's Factory foam products promote the healthiest indoor air quality by successfully conforming to the EPA's standards for low levels of chemical emissions. You will have peace of mind knowing your children are playing with some of the safest foam products on the market.
STURDY CONSTRUCTION: Soft but sturdy foam shaped tunnel is strong enough to support a toddler's weight, which means you don't have to worry about a child climbing on top of the tunnel collapsing on top of another child inside the tunnel.
WARRANTY: 2 years. DIMENSIONS: 20 x 20 x 15 in. AGES: 8 months to 3 years. LIGHT ASSEMBLY REQUIRED.