Bubble Blower for Kids - Non-Toxic Bubble Blower with 2 Bubble...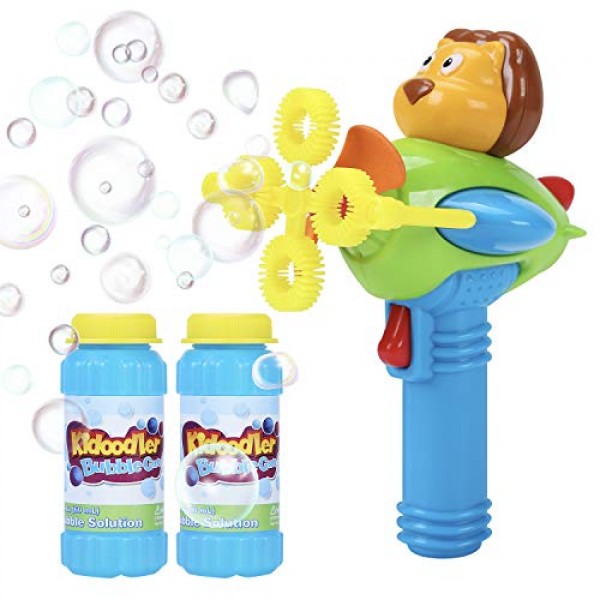 Bubble Gun Blower for Kids - Non-Toxic Bubble Blower with 2 Bubble Solutions - Mini Hand-Held Machine with 4 Wands for Blowing Bubbles - Bubble Toys for Parties, Camping, Outdoor Activities
????️ SERIOUS BUBBLE-BLOWING POWER - Why waste your breath blowing bubbles through a wand? The combination of our battery-operated blower and soap solution will yield hundreds of bubbles in one go!
????️ DIP AND SHOOT DESIGN - No need to worry about leaking and spilled bubble solutions. Just dip the 4-wand tip on the liquid-filled soap dish, aim, and press the trigger. Bubble fun made easy!
????️ SAFE, KID-FRIENDLY MATERIAL AND BUILD - This bubble blower is made of top-grade ABS plastic that won't scratch or break easily. The fan blades have blunted, rounded edges to prevent injuries.
????️ LIGHTWEIGHT AND PORTABLE - At just 4 x 4.7 inches, this mini bubble machine is easy to hold and operate even with one hand. The ridges on both ends of the handle provide a comfy non-slip grip.
????️ FUN GIFT FOR ALL OCCASIONS - No matter what the celebration, this bubble-blowing toy will surely make any child squeal with delight! It is also a unique prop for photos and parties.