Bloonies Plastic Balloon Variety Great Original Bloonies Bubble M...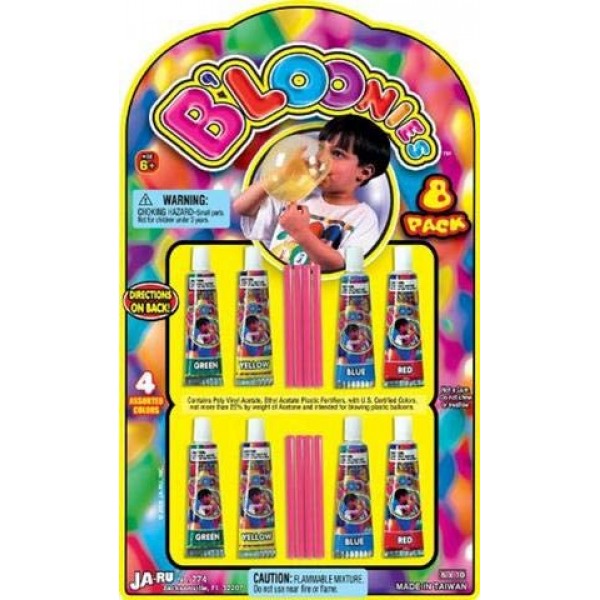 B'loonies Plastic Balloon Variety Great Original Bloonies Bubble Making. 774-1B
8 Units Original B'loonies Tubes. Assorted with Blowing kit. Bloonies. Colors 774-1B
Tubes of B'loonies plastic balloon Assorted Colors (Blue, Yellow, Green and Red). kit with 3 Super Cool and Different Types of Blowing Straws.
The art of shaping a nice bubble balloon is a great way to entertain a party. Bubble up Art, Blow bubbles and Make Marble Plastic Balloons. Plastic Bubbles a Classic old Game.
Bloonies are Great for arts and Crafts. Real Classic Game Toy Fun. Fun toys to relieve stress, Great for Physical and Occupational Therapy, Add, ADHD, Stress Relive and Release, Calming, Relaxing, Focus, Concentration, Teacher Help, Pastime toy Game, Handball Rehab, Autism, Anxiety, Anti Stress, Sensory Fidget Toys, Tactile Game, Quiet Toys.
USA Brand JA-RU. ASTM Tested. Top Quality & Safety. Party Favor, Giveaways, Prizes, Goodies, Stocking Stuffers, Rewards, Incentives, Pinata Filler, Birthday Bag, Reward, Carnival Christmas Halloween, Summer Camp, Add, ADHD. Cool Stuff Toys in Bulk.