YITOHOP 12080+ Loom Bands Kit , Rubber Bands for Bracelet Making K...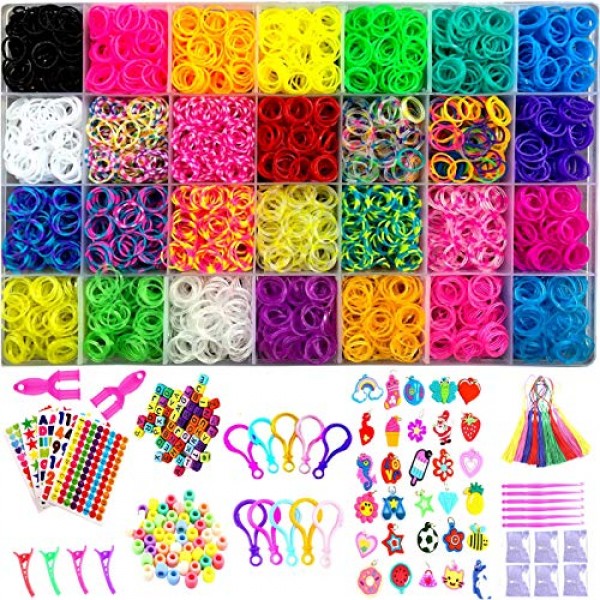 YITOHOP 12080+ Loom Bands Kit , Rubber Bands for Bracelet Making Kit DIY Art Craft Kit Girls &Boys Creativity Gift - Ideal Christmas Present
[ PACKAGE INCLUDES ] This rubber bands kit comes with all the necessary tools for DIY, including 11000+ loom bands, 600 S-Clips, 200 colored beads, 52 letter beads(2pcs/each alphabet), 30 charms, 10 zipper hooks, 10 tassels, 5 stickers, 5 crochets, 4 hair clips, 2 Y looms.
[ HIGH QUALITY LATEX & NON-TOXIC ] WE GUARANTEE 100% safe and non-toxic, free from latex, lead and phthalates. The rubber loom band has excellent performance on elasticity, softness and durability, it is optimal choice to make bracelets, arts and crafts gift, Christmas decoration,...ect.
[ EASY TO CARRY AND STORE ] This loom kit is equipped with a storage case to store all rubber bands, each color is stored in a separate compartment to keep them neat, and it can also help children develop habits to organize and organize their own things, it is amazing bracelet making kit for you absolutely.
[ IDEAL GIFT -GIVING ] The rubber bands kit is a perfect gift for 5-12 years old Girls and Boys birthday or Christmas. The rubber band bracelet making kit will better help kids learn to organize and package their stuff, and improve children's creativity and focus. Rubber bands refill loom kit is also a great gadget to kill time for adults and the elderly.
[ ENHANCED PARENT-CHILD INTERACTION ]This rubber bands for bracelets kit can divert children's attention from other digital products such as TVs and mobile phones to DIY project production, helping children to get rid of bad habits and develop stronger hands-on ability. If parents can participate in the production process, the loom bands could strengthen communication and interaction between children and parents, and increase parent-child relationships.