2021 New Version Ear Plugs, for Sleeping Noise Canceling, Cruchan ...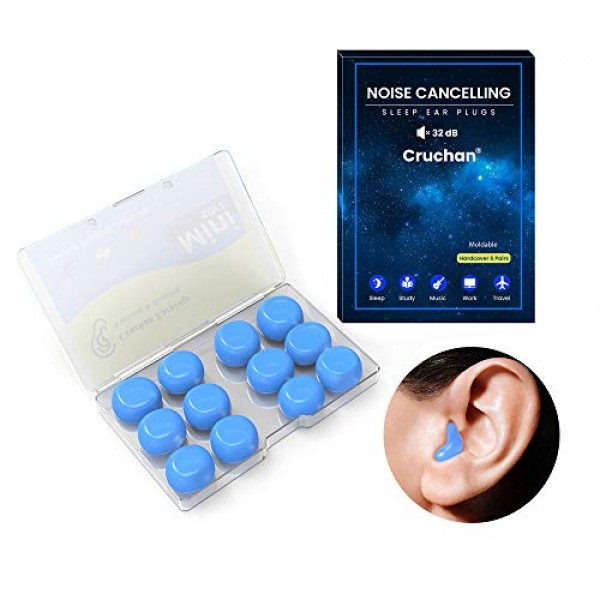 2021 New Version Ear Plugs, for Sleeping Noise Canceling, Cruchan 6 Pairs Soft Reusable Moldable Silicone Earplugs, Great for Snoring, Swimming, Travel, Concerts, Work, Studying, Loud Noise(Blue)
✅ GREAT FOR SIDE SLEEPERS: No long ends sticking out makes it very comfortable for sleeping on your side. These were easier to put in, more comfortable, and they stayed put. They do a better job of lowering the decibel level. But the little foam ones, they're annoying to squish into your ears and fall out easily .
✅ MULTI-USE: Our Cruchan brand silicone ear plugs can easily block all types of noise. They are the best for sleeping, snoring, flying discomfort, travel, concerts and live music, factories, and commercial areas, construction sites, motorcycles, and they are also great for many other loud events .
✅ REUSABLE AND WASHABLE: Made of high-grade silicone material, They are BPA free, washable, reusable, and hypoallergenic. safe to use, which means that you can use them for a long time. Soft enough to be molded. Also, it does not cause pain or discomfort.
✅ FITS EARS OF ALL SIZES: You can cut it in two or more pieces to fit the size of your ear. We know that everyone's ear canal shapes are different, therefore, using fixed shape earplugs always makes our ears uncomfortable. You can try our latest earplug designed in 2020, which can meet our personalized needs, serve you more attentively, and understand you better .
✅ GIVE YOURSELF A GIFT: If you are being annoyed by the noise and can't sleep, please give yourself a gift, let yourself have a good night's sleep, be more spiritual during the day, work better, and you will get a better career prospect. If your spouse, family, friends are being bothered, please hurry to save them. Our earplugs will be a lifesaver for you or their sleep and study habits .