Fabric Resistance Bands for Legs and Butt, Booty Bands Workout Ban...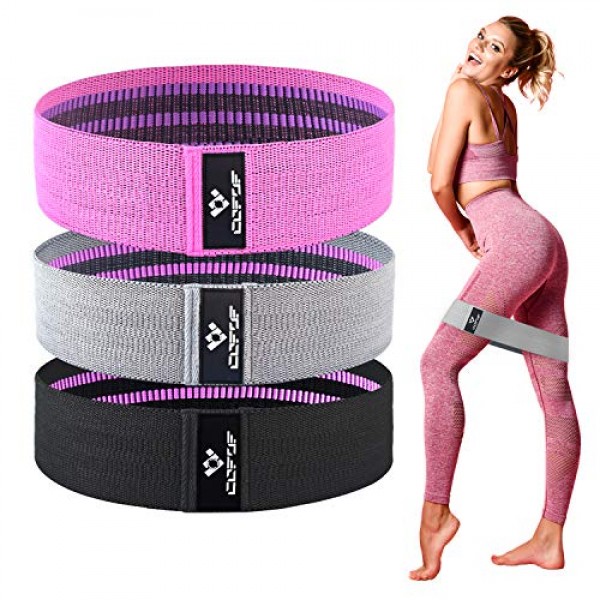 Fabric Resistance Bands for Legs and Butt, Booty Bands Workout Bands Exercise Bands Fitness Bands, Non-Slip Elastic Resistance Loop Bands for Home Gym - Glute, Squat, Lunges, Hip Training
Thick & Non-Slip & Strong Elasticity 2020 New Upgraded Resistance Bands set is composed of soft fabric and latex wire. We have thickened and widened the new booty band and the internal anti-slip treatment to increase the strength and resistance of the exercise resistance band. You do not need to worry about slipping and rolling up during workouts.
3 Resistance Levels Meet Various Needs Unlike other resistance fitness bands, our workout bands can adapt to the sports needs of different parts of the body. You can gradually increase the resistance according to the depth of the fitness level to help you improve the training effect.
Increase Efficiency for Multiple Sports Resistance Workout bands can help your body stay stable during yoga, Pilates, barbell training, hip training, and leg exercises, and make training more standardized. At the same time, elastic exercise band will increase the resistance during training. Greatly improve the training effect.
Exercise Anytime, Anywhere Resistance loop band is lightweight and equipped with a storage bag for easy carrying. Cloth Resistance band can be used in parks, beaches, offices, hotels, gyms, etc. Exercise anytime and anywhere to enhance the effect of exercise.
Best After-sales Service Within one year from the date of your purchase, you can replace any defective stretch exercise band free of charge. If the fitness band is not suitable for you for any reason, please contact us and we will provide you with a full refund Or new replacement.