8 Basil Herb Seed Pack - Cinnamon, Dark Opal, Genovese, Holy, Ital...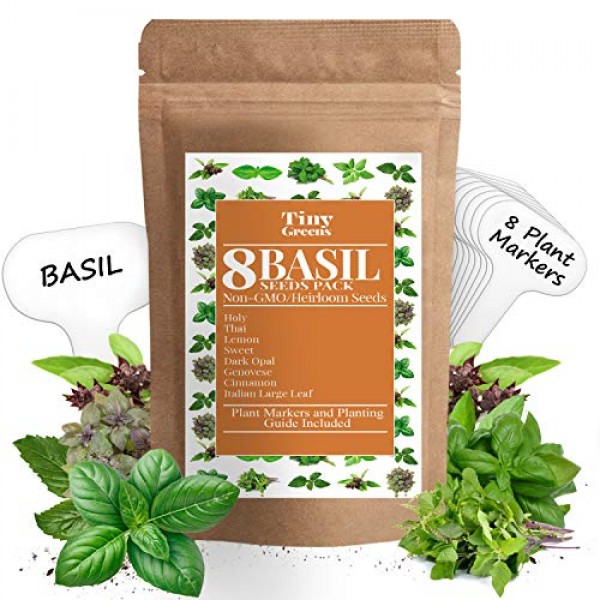 8 Basil Herb Seed Pack - Cinnamon, Dark Opal, Genovese, Holy, Italian, Lemon, Sweet, Thai Basil - Perfect Seeds for Planting Indoor Hydroponic Systems or Outdoor Herb Gardens - Heirloom & Non-GMO
Are You Looking to Grow Heirloom Basil Seeds For Your Garden, Kitchen or Herbal Teas?
Your search for the best Basil Seed Pack is over!! When you purchase from us today, here's some of the things you can look forward to..
- Enjoying healthy, clean, homegrown basil in your own yard
- Compliments from friends and family about your basil collection 
- Trying out new oils, teas and foods with different basil
- 8 Variety of the most popular basil varieties - Cinnamon, dark opal, genovese, holy, Italian large leaf, Lemon, Sweet, and Thai Basil
- Amazing customer service that wont let you down
You'll love our large variety of other seeds such as lettuce, greens, herb, flower, and vegetable seeds. Our unique packs will be great for outdoor gardens and even indoor hydroponic systems. 
Our Guarantee to You - Keep in mind that your satisfaction is our top priority. If for any reason you are not completely happy with your purchase, we have a money back guarantee. No question asked. 
So click the Add to Cart button now to secure the seeds you've always wanted
LOOKING FOR THE BEST BASIL VARIETY PACK? - We have compiled the 8 different variety of basil seeds in one nice package with bonus plant markers that will satisfy anyone's dreams
HIGH GERMINATION HERB SEEDS - Test at 95% germination rates, you wont be disappointed with the growth of these seeds. Included is also some growing and planting tips and tricks.
QUALITY HEIRLOOM & Non-GMO BASIL SEEDS - These seeds are sourced in the USA and are great for growing indoors or outdoor basil plants.
PERFECT FOR YOUR GARDEN, COOKING, or TEAS - Basil goes well with so many different foods and is also great as an oil, tea, or just over some pizza
100% GROWTH GUARANTEED & PRODUCT OF USA - Our garden seeds are sustainable sourced in the USA. Have confidence about our quality and 100% satisfaction guarantee. If by any reason they dont work out contact us for a new one. These seeds can work with aerogarden pods and other hydroponic systems.