600W LED Grow Light, WAKYME Full Spectrum Plant Light with Veg and...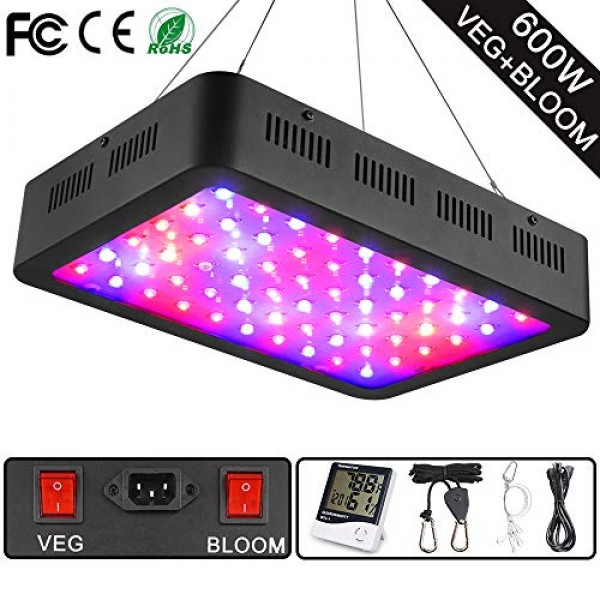 600W LED Grow Light, WAKYME Full Spectrum Plant Light with Veg and Bloom Double Switch, Thermometer Humidity Monitor, Adjustable Rope, Grow Lamp for Indoor Plants Veg and Flower(60pcs 10W LED)
Long Service Life Service Life is more than 100000 hours: We refuse reflectors and adopt 60PCS double chips SMD led; Each LED has diode to protect the dual chips. Built-in aluminum substrate with multiple vents and a high-speed big fan(rpm up to 2000), cool and quiet(only 35-40 decibel), efficient heat dissipation to maximum extend the light life.(NOTE: This 600W grow light don't have timer function)
Wide Coverage 60PCS SMD led(total 600W) provides uniform illumination. It can replace traditional 600 watt HPS/MH while consumes only 110-115 watts. Ensures maximum yield with minimum power usage and heat. PAR 436umol/m2s at 24" height, perfect for 2x2ft growing area(Maximum coverage area at 3x4ft at 24" height).
Optimal Full Spectrum Led grow light Full spectrum design, it also has universal Blue, Red, IR, UV, White light. Blue and red led is essential light for all plant growth. Expensive IR UV led can promote plants to defense mechanisms, promoting plant healthy growth.
Double Switch This grow lamp has Veg and Bloom switch functions: VEG switch for seeding/germination and young vegetative growth. BLOOM switch for flowering and fruiting. You can also use both Veg&Bloom to get more Red/Blue heavy output and deliver maximum performance for flowering and fruiting.
3-year Warranty Updated Package(June 1st,2019): 1x Grow light, 1x Thermometer Humidity Monitor, 2x Adjustable Rope, 1x Hanging Kit, 1x Power Cord for daisy chain, 1x User Manual. We offer a 3-year warranty and 30-day money back guarantee. If you have any problems, please contact us(support@mywakyme.com). We will provide you satisfied service.