4 LB Soil Vigor Tm Water Retention Granules_Crystals Super Absor...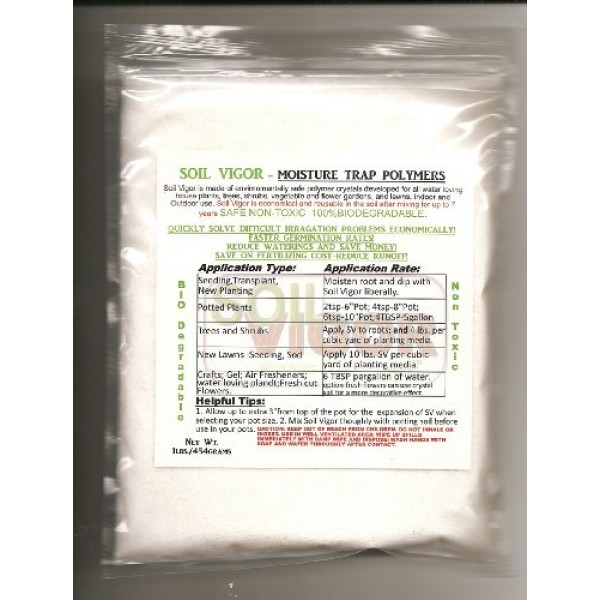 Soil Vigor Water Reservoir and Soil Aeration - Slow release properties. Water plants for weeks while away on vacation. Let's Soil Vigor do the bulk of your watering work for you. And keep your plant healthy.
4 pound Soil Vigor (Tm) Crystals Super Absorbent Polymer. Eco- Friendly Non Toxic.It is made of environmentally safe polymer crystals designed for all water loving house plants, trees, shrubs, vegetable and flower gardens, and lawns of all sizes.
Soil Vigor is a biodegradable super-absorbent. It absorbs up to 300 times its weight in de-ion water and slowly releases that water in the root zone for demand by plants.
Soil Vigor also absorbs water soluble nutrients and fertilizers, preventing their percolation into the water table.
Soil Vigor significantly reduces watering cycles to conserve water for growers. It is used to prevent plant loss caused by water stress and drought in soil where the water holding capacity is low or non-existent.
Soil Vigor able to hydrate and re-hydrate many times over its lifetime (up to 7 years). Providing on-going promoting healthy plants.