3 Bottle Value Pack - Anti-Aging Serum Set - 20% VITAMIN C 1oz |...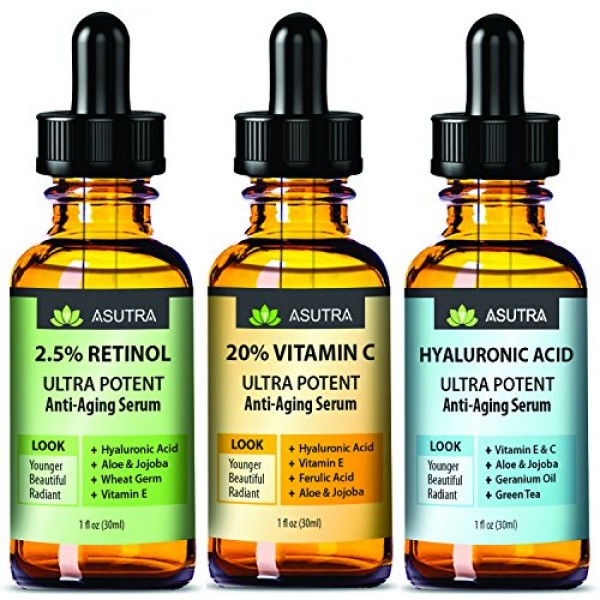 PURITY IS EVERYTHING - THIS IS GOING ON YOUR SKIN!
All three of our serums are 100% Vegan, 98% Natural & 72% Organic. NO Alcohol, NO Parabens, NO Sulfates, NO Fragrances, NO GMOs! We only add the purest ingredients for maximum anti-aging benefits while at the same time easy on your skin. Perfect for all skin types - no breakouts, irritation, or drying out of your skin..
ADDED ANTI-AGING INGREDIENTS
All of our serums are carefully formulated with proven ingredients. For each serum we also go one step further and add powerful anti-aging boosters to enhance the youthful appearance of your skin.
ALL OUR SERUMS - WHAT YOU MUST KNOW
- for all skin types, can be used under makeup
- professional strength, highest concentrations
- antioxidant rich > fights free radical damage
- stimulates collagen and elastin production
- massively boosts skin elasticity and hydration
- end result > look younger, radiant & beautiful
FREE E-BOOK - "SKINCARE - Survival Guide"
This is a must read! Jam packed with 50+ pages of information to help you reverse the effects of aging. Filled with illustrations, tips and much more. Valued at $9.95, we'll email this to you within 24 hours after you order giving you time to read it before your product arrives.
TRY IT AT OUR EXPENSE
We know our serums works and our customers love the purity and efficacy of our anti-aging serums but if you are not fully satisfied then we will provide you a full, no questions asked refund - but
keep the informative e-book valued at $9.95 as our free gift.
FDA Statement/Legal Disclaimer: These Statements have not been evaluated by the food and drug administration. This product is not intended to diagnose, mitigate, treat, cure or prevent any disease.
GET ALL THREE ULTRA POTENT FACIAL SERUMS: Truly the best deal on Amazon for anti-aging serums. Get three glass amber light protective bottles our highly effective anti-aging serums > 20% VITAMIN C (1oz) 2.5% RETINOL (1oz), & HYALURONIC ACID (1oz)
SEE RESULTS WITHIN WEEKS - GUARANTEED: This three serum set has everything you need to start looking younger, radiant and beautiful. TRY IT - if you don't see results, we will refund your money - no questions asked.
INCLUDES FREE MUST READ E-BOOK: A $9.95 value. Learn what you can do right now to reverse the effects of aging. Every person should read this! 50+ pages with illustrations, topics like "anti-aging myths to avoid" & "foods that slow the aging process". We'll email you this ebook right after your order ships so you can actually read it before your serum arrives!
BUY FROM A TRUSTED SOURCE: Look at our product line by typing in "asutra" in the Amazon search box. We formulate the best all natural and organic products using the purest ingredients and essential oils. We encourage you to try this and be one of our thousands of satisfied and loyal customers :)
DERMATOLOGIST RECOMMENDED - IT WORKS: Ask any dermatologist and they will usually recommend a regimen of these three serums. Looking younger shouldn't cost a fortune > now you can buy these anti-aging serums as a set and save money while turning back the hands of time.