2 Peat Pots | Plant Starters | Seedling & Herb Seed Starter Kit -...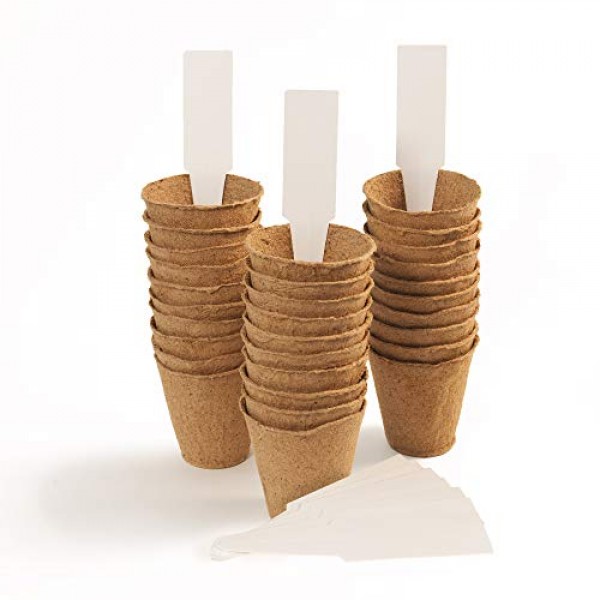 2" Peat Pots | Plant Starters | Seedling & Herb Seed Starter Kit - Organic Biodegradable Pots 100% Eco-Friendly Enhance Aeration | Bonus 10 Plastic Plant Markers - 30 Pack, 2 inch
The Perfect Organic Garden Seedling Pots To Grow Your Seed Starters - Start Today!
Do you want a greener thumb - a way to increase your chances of planting success?
Are you sick and tired of planting and growing your favorite plants with love and care, only to see them wither from the shock when you try to transplant them to your garden?
If that's the case, then we have the perfect product for you. These amazing organic peat pots will prove to be exactly what you need!
Say Goodbye To Transplant Shock & Root Circulation
As any agriculturist or gardening enthusiast will tell you, planting saplings and seedlings is a tricky business. They often require to be initially grown into a small peat pot and then transplanted - a process many of them aren't strong enough to survive.
These amazing seedling pots are here, however, to provide a simple solution to that millennia-old problem. Just grow your seedlings, and then plant them in your yard or garden without removing them from the pot.
No transplant shock, no root circulation, and no withered plants and flowers - it's that simple!
100% Natural, Organic & Biodegradable
The secret to these unique starter peat pots is that they're made from nothing but spruce fibers and peat moss. This makes them 100% natural, organic, and biodegradable. They are sustainably produced and environmentally friendly, and can be used for aquaponics and hydroponics, as well as for traditional growing methods!
So, What Are You Still Waiting For?
Order Your Own Premium Organic Peat Pots Pack By Daniel's Plants Right Away!
Just Click "Add To Cart"!
START YOUR GARDEN THE EARTH-FRIENDLY WAY: Use less plastic than with traditional plastic pots. With these 100% biodegradable seedling pots, you can feel confident that you're keeping more plastic out of the landfill! Start the Garden of your dreams! The right way!
GREAT FOR SEEDLINGS &PLANT STARTERS: With a 2-inch diameter, these organic peat seedling pots are perfectly sized for germinating flowers, herbs, and vegetable saplings like tomatoes and cucumbers.
PREVENT TRANSPLANT SHOCK: By becoming one with the root ball and promoting aeration, these amazing peat pots are great for transplanting plants without causing root circulation or harm.
ECO FRIENDLY MATERIALS: When it comes to our starter pots for seedlings, we use nothing but 100% natural and biodegradable ingredients. No adhesives added. It literally doesn't get more eco-friendly than that!
GET THEM RISK-FREE: If these seedling pots fail to meet your expectations, don't hesitate to contact us and benefit from our 100% customer satisfaction guarantee policy!