2 Pack Total 6030 in each pack Purederm Collagen Eye Zone Pad Pa...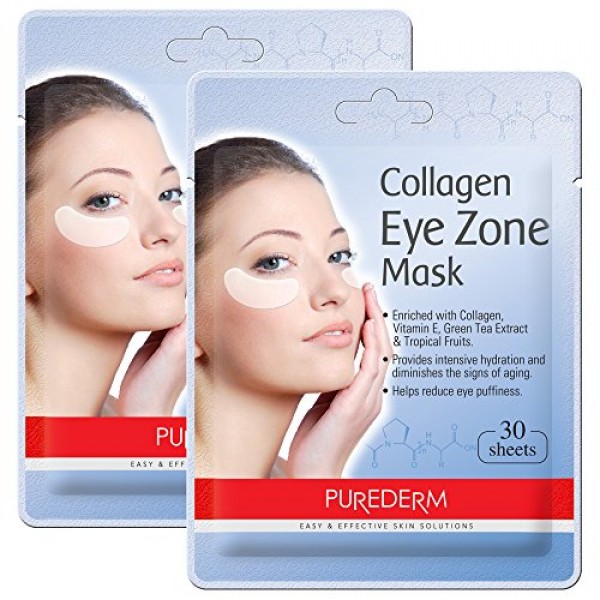 2 Pack Total 60(30 in each pack) Purederm Collagen Eye Zone Pad Patches Mask Wrinkle Care (2 Pack)
Offer Your Eyes The Care They Deserve, With This Fantastic Set Of Collagen-Enriched Eye Mask Pads, Brought To You By Dermacare!
Are you looking for a high-end quality under eye mask?
Have you tried numerous similar products, but they turned out to be ineffective and disappointing?
Would you opt for dependable eye care product that will help you deeply moisturize and relieve the sensitive area around your eyes?
If so, then keep on reading, for Dermacare is here to offer you just the product you've been looking for!
Restore Your Eyes' Moisture Level & Elasticity!
The Green Tea and Tropical Fruits extract help soothe and calm your under eye area, while the Vitamin E aids in deep hydration and thus, reduction of the dark circles and uneven skin tones. The Natto Gum collagen extract helps diminish the signs of aging, by reducing puffiness and restoring your skin's elasticity - talk about many birds with one stone!
Easy & Simple Application!
Step One: Gently wash your face and make sure the eye skin area is clear and dry.
Step Two: Apply the mask around eyes, ensuring good contact with the skin.
Step Three: Leave the mask on for ten to twenty minutes and remove.
After you're done using it, don't forget to seal the zipper bag - it will keep your mask in tip-top condition!
So, What Are You Still Waiting For?
Place Your Order Now & Help Your Eyes Look Younger & Radiant!
Make your eye zone care simply - Before bed, while brushing teeth, break time, not enough time to use facial mask! Care your eye zone simply!
Including high quality leap & fruit extract - Enriched with Collagen, Vitamin E, Green Tea extract and Tropical Fruits. It provides intensive hydration to your eyes and diminishes the signs of aging. It helps reduce eye puffiness, dark circles, shadows and uneven skin tones under eyes.
Reasonable rrice & nice quality - Compare with other brand, Purederm Always offers customer REASONABLE PRICE AND NICE QUALITY!
30 sheet in each pack
Made in Republic of Korea