1200w LED Grow Light with Veg&Bloom Switch,GREENGO 3 Chips LED Pla...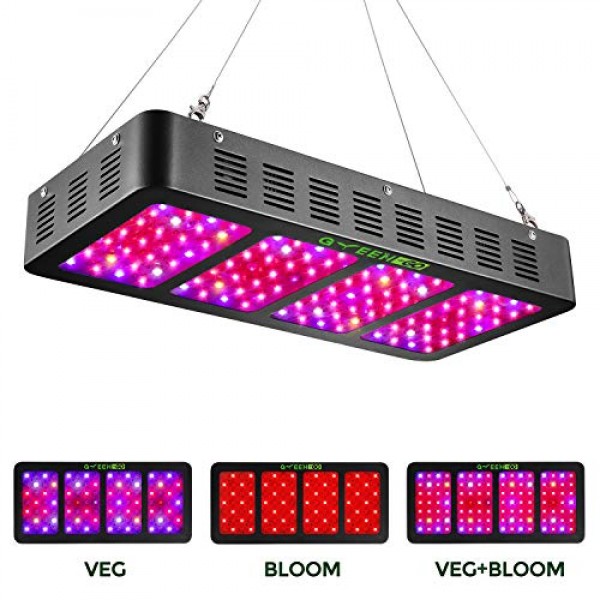 1200w LED Grow Light with Veg&Bloom Switch,GREENGO 3 Chips LED Plant Grow Lamp Full Spectrum with Daisy Chain for Indoor Plants Veg and Flower (LED Grow Light)
GREENGO 1200W led grow light with dual switch , daisy chain design and upgraded aluminum cooling heat sinks, is ideal for all kinds of indoor plants veg and flower at all growth stages.
➣Using Tips➣
✔Working Voltage from 85V to 265V all available.
✔The power cord is double use for power and daisy chain.we suggest max 3 pieces same power GREENGO led grow light in daisy chain. Each 1200W working current is 2.1A (input voltage 110V/120V)
✔For seeding or young vegetative growth,you can use VEG mode switch.
For flowering and fruiting,you can use BLOOM mode switch.
We recommend the both swithes be turned on during flowering and fruiting stage.
✔ Recommend Height:Seedling Stage:40"-44" above plants; Veg Stage: 32" -40" above plants; Flower Stage: 24" -32" above plants.
✔ Reference value: Core Coverage area at 3.5'*3.5'. Maximum coverage area at 5.5'*5.5'.
➣Specification➣
-Chips brand: 15W Bridgelux Triple chips
-Nominal Power: 248W
-Input Voltage: AC85-264V/50-60HZ
-LED QTY:112 Pcs(Red,blue,white,warm white,UV,IR)
-Working environment : -20~40degree;45%~95%RH
-Vegetative Coverage at 32": 3x3ft
-Flowering Coverage at 22": 2.5x2.5ft
-Dimensions:17*8.0*2.2inch
-Item Weight:6lb
-Warranty:3 years warranty
➣Package Includes➣
◆1 x 1200W LED Grow Light
◆1 x Power Cord
◆1 x Hanging Kit
◆1 x Adjustable Rope Hanger
◆1 x Instruction Manual
➣Attention ➣
❥. Indoor use only, non-waterproof.
❥. Stop using light when fans are off.
❥. This light includes IR (Infrared) LEDs which look dim, they are not faulty LEDs. It plays an important role in the flowering and fruiting stages.
❥. Extremely bright, do not look directly at the LED bulbs when the light is on.
❥. Surrounding temperature: MUST less than 40℃.
❥. Can be controlled by Timer.