12 Oz Coconut Extra Virgin Oil 100% Pure Organic Moisturizing Oil ...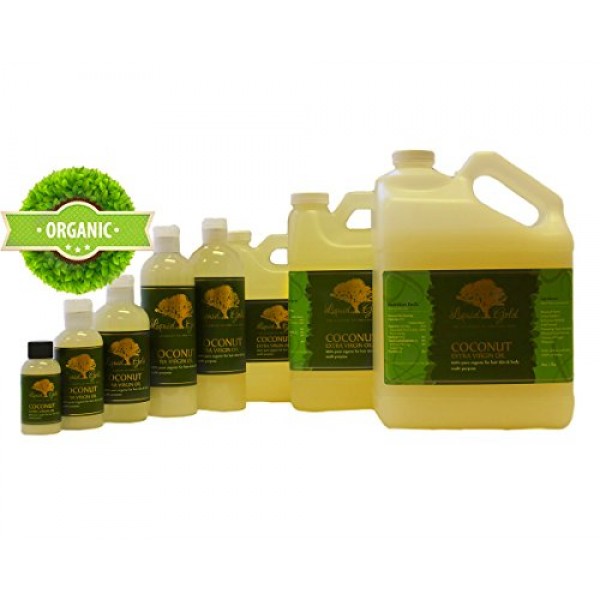 12 Oz Coconut Extra Virgin Oil 100% Pure Organic Moisturizing Oil For Face Skin Hair Growth Stretch Marks And More
Amazing beauty recipes with coconut oil that you definitely need to try
More and more people are turning away from manufactured, chemical based, beauty and personal hygiene products and turning to natural homemade alternatives because, if you make it yourself, then you know exactly what has gone into it and it's often a lot more cost effective too. Many homemade beauty recipes include coconut oil, because of its many incredible and beneficial properties and here are eight amazing beauty recipes that include coconut oil that you can make at home:
Coconut oil deodorant for sensitive skin
You don't need all those harsh chemicals to keep you fresh, just try this 100% natural deodorant instead. Just mix the ingredients together into a paste and store in a jar. Apply with your finger, rub in and you'll be amazed at the results.
Ingredients:
2 Teaspoons Baking Soda
6 Tablespoons Coconut Oil
2 Tablespoons Bentonite Clay
5 Tablespoons Arrowroot Powder
4 Drops of rose essential oil (or chose another essential oil that you like)
Coconut oil toothpaste
You can make your own toothpaste too. Keep your teeth strong, healthy and clean with this homemade toothpaste. Cream together the ingredients and use as you would any other toothpaste.
Ingredients:
5 Tablespoons Bentonite Clay
5 Tablespoons Coconut Oil
1/2 teaspoon sea salt
4-5 Tablespoons water
7 Drops peppermint essential oil
Makeup remover. Coconut oil can play a role of tender and gentle cleanser for your skin, it removes makeup and leaves your skin very soft and smooth. Eye makeup remover that will also condition your lashes. Apply coconut oil on the cotton pad, gently press it over your eyes to let it dissolve makeup for a little moment and then gently wipe away all the makeup from your eye area: your eyeshadow, concealer and mascara. This way not only will you remove all the makeup, but also you will condition and moisturise your eyelashes and eyebrows. Isn't it perfect?! Hand cream. Coconut oil is amazing for your hands and you can use it as a hand cream. Rub it on your hands and nails (with no nail polish on), the oil will soak into your skin, nails and cuticles and make them stronger and healthier looking. Natural healing scalp treatment. Because of it's healing properties coconut oil can help to treat dry, flakey scalp, dandruff and even eczema. If your coconut oil is solidified, you can slightly warm it up on a hot bath, and then massage your scalp with it in circular motions.
Body lotion. I forgot when I last bought a body lotion, I love using coconut oil instead. (Sometime I use olive oil, if I don't have coconut one around, but coconut oil is my personal favourite). It leaves your skin extremely soft and smooth, i can't describe how amazing this all natural "body lotion" is! I usually use it while in the shower. You only need the tiniest amount and it will go a long way. It will give your skin a glow and will beautify your skin amazingly. You will look and feel like a million bucks! Natural face moisturiser. Coconut oil is known for anti ageing properties. I love using it at night, as well as during the day! You probably wondering how is it possible to use an oil under makeup and don't look oily during the day?! Yes, it is actually possible, but it requites a little trick. In the morning, when I washed my face, I apply the oil on my still damp face and let it sit for about 5 or 10 minutes. Then I splash my face with cold water and pat it dry. This way, my face feels soft, smooth and moisturised, with no sign of oiliness whatsoever.
All natural deep conditioning hair mask or warm oil treatment. Because of styling products and blowdrying, our hair often lose natural shine and silky feeling, this is where coconut oil can also be our helper! When you massaged your scalp with coconut oil, use what's left for replenishing moisture into the length of your hair. Spread this natural "wonder" on the length of your locks and leave it on for at least 2 hours. (You can also leave it for longer or even overnight for better results.) If you want to go further and get the most out of your coconut oil, you can slightly heat it prior to applying on your hair (heat it just a tiny bit, the temperature should be comfortable to touch) and then, when applied, put on a plastic "shower hat" and wrap this construction with a towel (to hold the heat). Make sure your husband or boyfriend isn't looking, because you might look bizarre! Keep it on your head for 2 hours and then shampoo and condition your hair as usual (you might need to shampoo your hair 2 times to get rid of greasy feeling). Your hair will feel a lot softer and look a lot shinier!
Coconut oil shaving cream Give yourself a naturally smooth shave by using coconut oil instead of your shaving cream. It's a perfect alternative to the harsh chemicals found in most shaving creams and it will moisturize your skin at the same time. Coconut oil face wash To gain clear and smooth skin, try using coconut oil instead of your usual face wash. Be warned though, while some girls swear by it, others say it can cause break outs! Coconut oil face wash would be perfect for dry and normal skin types. Coconut oil facial scrub Improve the look and feel of your skin by mixing a little baking soda with coconut oil and wash your face with it once or twice a week. The mixture works great as a facial scrub, especially if you are prone to acne. Coconut oil makeup remover Apply some coconut oil to a cotton pad and gently remove your makeup with it. Rinse afterwards and your skin will be left feeling fresh, smooth and clean. Coconut oil frizz tamer A small (really small) amount of coconut oil, applied to your hair, will smooth down the fly-away hairs and leave your hair with a beautiful shine. Don't overdo it though. Coconut oil eye cream Coconut oil is a great re-hydrator and is perfect for the sensitive skin around your eyes. Rub a little in and it will leave your skin feeling beautifully smooth; coconut oil eye cream will help to reduce the signs of aging too.
Body scrub and body lotion in one! Mix coconut oil (in a liquid form) with sugar. Yes, it's that simple! This way you've just got amazing body scrub which will also moisturise and care for your skin in the best and the most natural way possible. You can gently massage it all over your body, as well as your feet (to get them smooth and tender to touch). Shave cream. I don't use shaving creams any more. I use coconut oil instead. Massage coconut oil into your skin and then shave your legs as usual and rinse when you are done. You will be left with the softest legs ever and this, without using any chemicals.