12 Inches Indoor Planter with Stand, 20 Inches Tall Matte Grey Pla...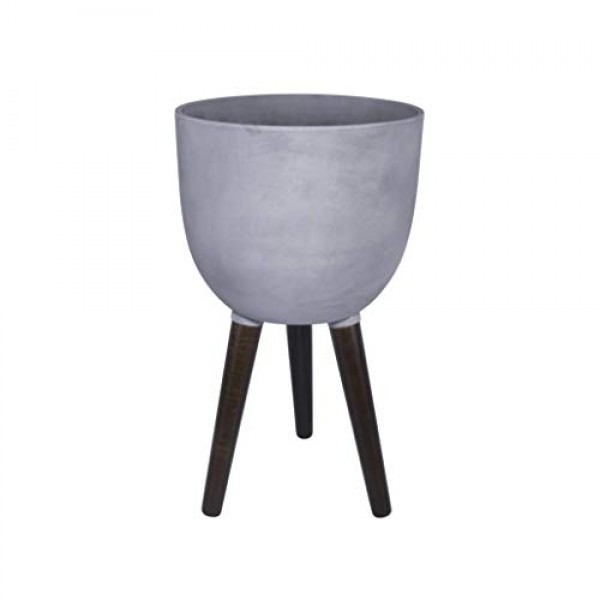 12 Inches Indoor Planter with Stand, 20 Inches Tall Matte Grey Planter Pot for House Plants - Plant Pot with Mid-Century Finishing Wood Legs, Planter Pot with Drainage Hole and Plug - by D'vine Dev
11.5" Indoor Planter with Stand - (Grey, 20" H) - Large Planter Pot for House Plants - Planter Pot with Drainage Hole & Plug - by D'vine Dev
>> Handcrafted Modern Large Planter Pot with Stand - 11.5 Inches Diameter Cylindrical pot for houseplants, large plants pot with legs. 20 Inches Tall Large plants pot with stand, simple and elegant contemporary grey finishing. Stand study plants holder pot with durable hand laid fiberglass resin planter - weather resistant for both indoor and outdoor use.
>> Great Home/Garden Décor Piece - with contemporary design, this elegant planter pot can easily accent your space at home & garden. It will look great with indoor houseplants, house trees, large plants or artificial plants. Planter pot with customized mid-century walnut finishing planter stand included.
>> Drainage Hole and Rubber Plug - With a large drainage hole at the bottom of planter pot for appropriate water draining for plants such as large trees, fiddle-leaf fig, majesty palm tree, money tree, split leaf philodendron and more, flower plants or almost any indoor/outdoor plants. It can provide better water-flow and air penetration, healthy root growth for live plants. Each pot also contains an easily removable rubber drainage plug, your choice of draining your plants or not.
>> Ceramic Planter Filler and Drainage Net - Place the drainage net inside the pot to cover the drainage hole beneath the planting soil. It is designed to prevent planting soil from falling off while still allowing excessive water drainage. Then either place the ceramic planter fillers at the bottom of the pot or on the surface or mix it with plant soil to provide great air and water flow for healthy plant roots growth.
>> Love it or Money Back Policy | Breakage Free Packaging - With confidence in D'vine Dev products and commitment to bring high quality products to the market, we provide full refunds or hassle-free replacement if there is any issue with our products. If there is any damage occurred during fulfillment and delivery, please contact us immediately for full satisfying resolution.