10Pairs 3d Russian, D Curl Lash Strips, 15mm Wispy Fake Lashes tha...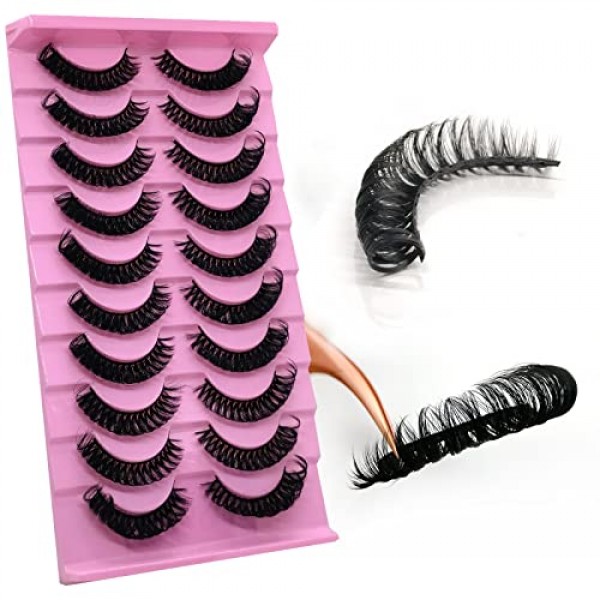 10Pairs 3d Russian, D Curl Lash Strips, 15mm Wispy Fake Lashes that Look Like Extensions, Natural False Lashes Mink
DD Curl Compared with C-Curl and D-Curl, royaomis false eyelashes are designed with a more curled curvature, making your eyes more attractive!
SAME AS SALON Royaomis launches the latest D-curl style false eyelashes, you can get the same attractive false eyelashes as you do in a beauty salon without having to spend a high price! Greatly save your time and money! Let you change makeup more freely!
LIGHTWEIGHT & SOFT 3D faux mink eyelashes are made of high-grade silk fiber causing no harm to animals, which is non-irritating, super slender and soft, definitely suitable for long-time wearing. Our products are just as fluffy and natural as your own eyelash, bringing you Vivid eyes and quickly enhance your charm.
HANDMADE & NATURAL-LOOKING 20 years' insist on 100% handmade fake lashes just to guarantee the high quality of Royaomis. 21 elaborate producing process to ensure our lashes a more natural look, a more suitable curve to fit your eyes and a more comfortable wearing experience. We are meticulous to make your choice deserve.
EASY TO APPLY & RE-USE Each pair of Royaomis false eyelashes is soft and elastic for novices to wear easily. With the delicatedly crafted eyelash band, it can be reused many times, which saves your beauty cost and brings you ease, painlessness and light eyelash wearing experience, offer you natural and beautiful look and make your eyes more charming!