100W LED Grow Light Bulb - Pure White Full Spectrum Plant Light fo...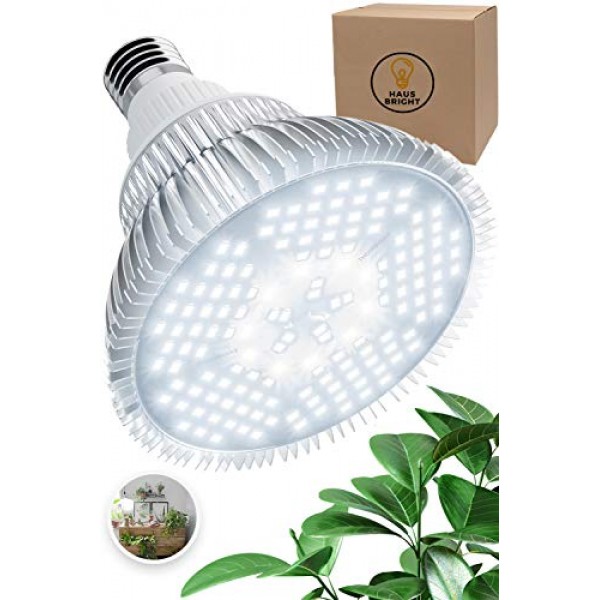 100W LED Grow Light Bulb - Pure White Full Spectrum Plant Light for Indoor Plants, Garden, Aquarium, Vegetables, Greenhouse & Hydroponic Growing | E26/E27 Socket (AC85-265V) by Haus Bright
Need a quality white grow light bulb? Want your plants to grow 365 days per year? Want to buy from a quality brand that always puts their customer first? Haus Bright is your answer.
Who is this for:
- Any vegetable, fruit, flower or plant growers who don't get consistent sunlight for their plants.
- Medicinal plant growers who want to create and maintain a small grow.
- Growers who want to save money on their power bill.
- Anyone who prefers white grow lights over purple grow lights.
100W White LED Grow Light Bulb:
- No need to switch lights at different stages of growth, our bulb is full spectrum.
- Feel confident touching our grow light bulb, it has little heat output.
- Over 150 LED's ensure your plants get the best mix of light.
- No more taking plants in and out, sun light 365 days per year!
- 30 day satisfaction guarantee, peace of mind!
Q: Is this really a 100W White LED Grow Light Bulb?
Our bulb has the same brightness (lumens) as an incandescent bulb drawing 100W of power. Difference is, our LED grow light only draws 20W!
Q: Do white grow lights work as well as the purple lights?
Yes! Our white grow light bulb has been tested for full spectrum wave lengths which your plants will love!
Q: What kind of plant is this bulb suitable for?
You should expect strong growth for various vegetables, fruit, herbs, medicinal & aquarium.
Q: What size of grow is this best suited for?
One bulb is enough for your small grow but we see that customers are so impressed that they buy multiple bulbs to expand their grow.
How to install grow light bulb:
1. Screw in bulb and turn on
2. Watch your plants grow like crazy. That's it!
Don't settle for cheap knock offs! Get it right, get Haus Bright. Click add to cart today!
LED GROW LIGHT BULB - White full spectrum plant light by Haus Bright! The only indoor grow light LED for plants & greenhouse. Grow lamp acts as hydroponic growing system inside your indoor grow tent. Don't risk cheaper brands!
GROW LIGHTS FOR INDOOR PLANTS - Superior to small grow light fluorescents, tubes, CFL, T5, T8. Multiple grow light bulbs create same power as 300w, 600w, 1000w led grow light with more flexible arrangements. Best grow light value for money!
WHITE PLANT LIGHT - Hydroponics growing system with 365 days a year of sunlight, only draws 20W power, bulb stays cool, fits standard E26 bulb socket, full spectrum, 18 months warranty, e-book and video included. Exclusive to Haus Bright!
WHITE LED GROW LIGHT - for medicinal plants, indoor plants, greenhouse, seedlings, succulents, large house plants, seed starting, tomatoes, flowers, vegetables, garden, palms, cactus, herbs, orchids, aquarium, citrus, fish tank, aquaponics, office and winter.
ADD TO CART - to order now with our "no questions asked 30-day satisfaction guarantee". If you are not impressed with the results, please contact us and we will refund your money! Order more than three Haus Bright products for big savings!