1000W LED Grow Light, Growing Lamp Full Spectrum for Indoor Hydrop...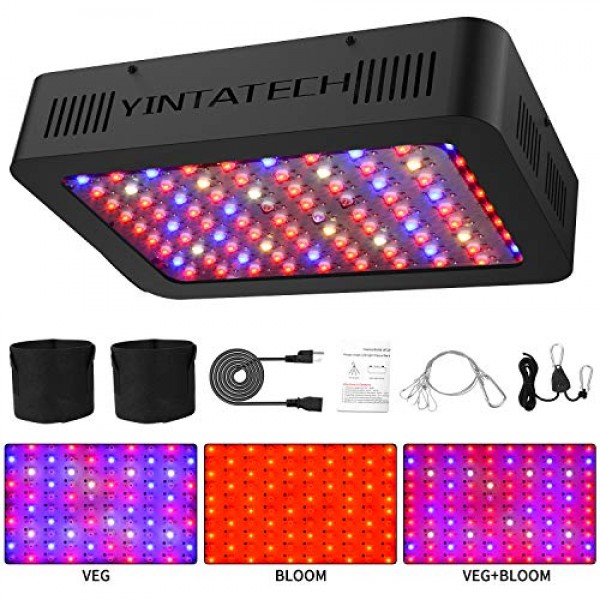 1000W LED Grow Light, Growing Lamp Full Spectrum for Indoor Hydroponic Greenhouse Plants Veg and Flower with Double Switch & Dual Chip, Daisy Chain, UV & IR, Adjustable Rope Hanger (100pcs 10W LEDs)
Features:
Full Spectrum Design: The 1000W full spectrum LED plant grow light includes Blue, Red, IR, UV and White light.
It can provide plants, vegetables and flowers with everything they need at all stages of growth just as they would like in natural sunlight.
The IR and UV leds promote the plant's defense mechanisms, blue and red leds are necessary light for plant growth.
Suitable for seedling, germination, growing stage, blooming stage and fruiting stage.
Double Chips LEDs with Zener Diode: brighter and more efficient
Zener protection to make sure that one led is broken will not affect the others.
Daisy chain design, the more freely connected lights together are limited to actual 1000W without worrying about short power cords and less sockets.
Suggest Daisy Chain Quantities: 2-3 YINTATECH grow lights
Adjustable rope hanger, can freely adjust the height of hanging according to different growth stages of plants.
Plant bag can help you grow fruits, vegetables and ornamental plants in anywhere such as deck, patio, front steps and so on.
Double Switch: Veg and BLOOM button can work independently or together according to the needs of the plant to avoid unnecessary power consumption.
Efficient Cooling System: Low noise, quiet and comfortable, don't disturb your daily work.
2 built-in cooling fans and big metal heat sink to protect the grow light from high temperatures.
Specifications:
Product Size: 12.36 x 8.54 x 2.4 inches
Product Weight: 4.98 lbs
Max Power: 1000W
Actual Power: 205W±3%
LED Quantities: 100pc Double Chips LEDs
Angle of LEDs: 140°
Input Voltage: AC100~240V
Working Current: 640mA
Working Environment: -20°- 40°
Working Frequency: 50-60Hz
Lifespan: ≥50000 hrs
Package Included:
1 x 1000W Grow Light
1 x 5ft Power Cord
1 x Hanging Kit
1 x User Manual
1 x Rope Hanger
2 x Grow Bags
No Reflector More Safer As we all know that led reflector give the grow light a beautiful look, but it is not heat-resistant and prone to short circuit. Which can cause it to catch fire. So we give up the reflector and ensure safety. What's more, using isolated power supply, relatively linear and non-isolated more secure.
Wide Coverage Energy Saving 1000W LED Plant Grow Light with 100pcs 30mil Double LED Chips. PAR 406umol/m2s at 24" height, perfect for 3x3ft growing area. Our plant growing light can replace 3-5 times the power of high pressure sodium lamp, saving 80% of the electricity. And each lamp bead is equipped with a stabilizer tube to ensure that every lamp bead works independently.
Full Spectrum and Dual Switch LED grow light Full spectrum design adopts the wavelength of 380-800nm with universal Blue Red IR UV and white light. Promoting all stages of plant Veg and flowers healthy growth. VEG for seedling growth with blue and white LEDs; Bloom for flowering or blooming with red and white LEDs. You can use both VEG and Bloom for a more Red/blue heavy output to deliver maximum performance from seedling through final flower.
Efficient Cooling System Built-in 2pc high-speed silent cooling fans and metal cooling heat sinks, as well as many round holes on the Aluminum plate and 3.0mm thickened aluminum base plate, effectively solving the heat dissipation problem and have very low noise when the plant grow light is working. Extend the plant light service life up to 50000 hours.
What You Get 1 x safe 1000W LED grow light full spectrum, 1 x 5ft power cord, 1 x hanging kit, 1 x rope hanger, 2 x grow bags, 1 x user manual, 3 years warranty plus 30 days money back guarantee, and friendly customer service.