Zewa Replacement Conductive Pads for Body Relax II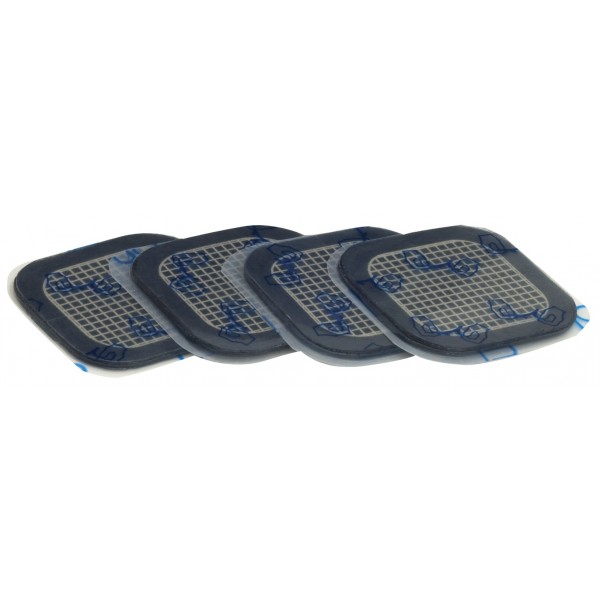 Replacement Conductive Pads for Body Relax II
2" x 2" Reusable
Multistick gel for use with Body Relax II support belt
Self sticking and long Lasting
Includes 4 pads
Frequently asked questions about Body Relax II and Conductive Pads:
Do your conductive pads work with other back belt relief systems?
Yes, they will work with most back belt relief systems. However, we can not guarantee how the metal connectors of the belt will react to the pads. The Zewa belt is built with very specific metals so that they don't corrode.
I just received my unit and I can not feel any pulsation:
Make sure you remove all plastic liners from the conductive pads. There is 1 liner on each side of the pad. Stick the side with the grid pattern onto the belt.
My unit turns off by itself:
Turn off the timer function. If the timer function was not turned on, replace the batteries.
When I remove the belt, some pads stick to my back instead of the belt:
The pads use 2 different gels. The grid pattern side is more adhesive than the other side. Make sure the grid pattern side sticks to the belt.
When placing the conductive pads on your belt, remove the plastic liner from the grid pattern side first, without touching the gel and place them on the belt. Leave them on the belt for about 1 hour which makes them adhere to the belt (this waiting period is not a necessity, but will make them stick better to the belt).
Remove the second plastic liner with the "NO/ON" print and place the belt around your back.
Handclean your belt and let it dry. It is very important that the electrodes are placed on a clean belt.
In case your belt is wet from cleaning or sweating, let it dry completely before placing the electrodes.
Remove the pads from your back and stick them back on your belt.
Item No 21057