Zewa Premium Automatic Blood Pressure Monitor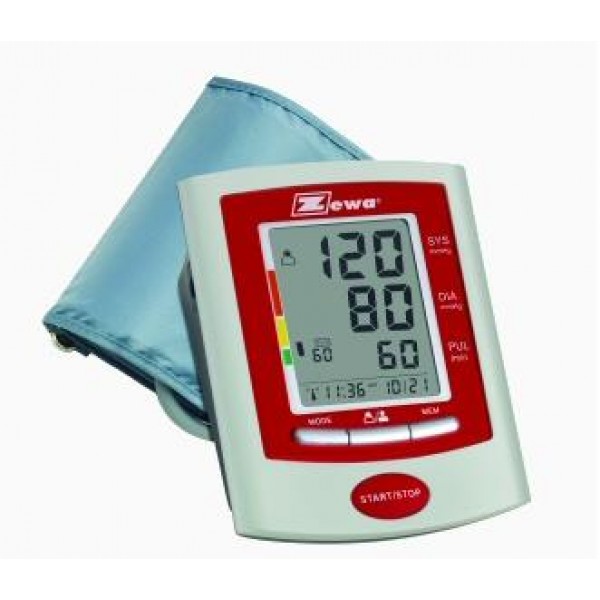 Zewa Premium Automatic Blood Pressure Monitor
The UAM-881 has all features of the UAM-880, but in addition to that includes Zewa's exclusive AutoTime feature (Pat. Pend.). It programs its date and time automatically using a free signal.
Product Specifications:
Fully automatic with PI System
Systolic, diastolic measurement and pulse rate
Date and Time (also for stored readings)
AutoTime function (call for for more information)
Extra Large Display
2 x 60 reading memory
Average function: Advanced average function with AM/PM average
Hypertension indicator
AC Adaptor connection (AC Adaptor included in AC models, UAM-881AC)
PC ready connection (USB cable and software included in PC models, UAM-881PC)
Includes 1 Universal Cuff (8.7"x18.9")
Guaranteed Accuracy of +/- 3mmHg
LIFETIME WARRANTY
Universal Cuff (8.7"x18.9") = No Additional Fee
Medium/Large Cuff (8.7"x14.2") = No Additional Fee
X-Large Cuff (13.4"x18.9") = $5.00
Add Blood Pressure Monitoring Software for $10.00
Zewa's blood pressure monitoring software is compatible with several Zewa blood pressure monitors. Once the readings are transferred to your computer, the software will create 4 different charts, visualizing your blood pressure. Charts can easily be printed or E-Mail to your physician.
Product Specifications:
Easy to use blood pressure monitoring software
Automatically transfer readings from compatible BP monitors
Manually enter your data for none compatible BP monitors
Software creates 4 charts (Pie, Histogram, Line, Correlation)
Provides Average, Minimum and Maximum of readings
Adjustable time period
Results can be printed or E-Mailed as a PDF file
FAQ's
What batteries do I use?
All Zewa upper arm units use 4 x AA type batteries.
All Zewa wrist units use 2 x AAA type batteries.
How long do the batteries last?
This depends on several factors. The 2 main factors are:
*High blood pressure. The higher the pressure the more the machine has to inflate, therefore using more power.
*The bigger the cuff the more the machine has to pump, therefore using more power.
Why does my machine not pump to 200?
Our blood pressure monitors use a system called . This means that the machine will only inflate as much as necessary to take a reading. 200 was a limit used by older generation units and is also used in manual and semi automatic units.
What cuff size do I use on my upper arm monitor?
It is very important that you use the correct cuff size. Before deciding which cuff is correct for you, measure your circumference of your upper arm. Let your arm hang at your side and measure the circumference in between your shoulder and your elbow.
Why do my blood pressure readings vary so much?
Your blood pressure changes constantly. To read more about blood pressure please check our health information section.
My blood pressure readings are CONSTANTLY too high or too low:
Make sure you are using the correct cuff size. Also, make sure you have the correct posture when taking a reading. Sit in a chair with both feet on the floor. Place your arm in your lap and relax for 5 minutes before taking a reading.
Are cuffs interchangeable between manufacturers?
No, every manufacturer uses different plugs to connect the cuff to the unit. Also, BP machines use a motor specifically developed for a certain machine. If the cuff is too large or small the motor may not be able to inflate the cuff.
Can I use a Zewa upper arm monitor on the forearm if the cuff does not fit?
No, these machines have not been tested and calibrated for usage on the forearm.
Should I use the right or left arm?
Zewa's monitors can be used on any arm, however it is easier to apply the cuff on the left arm. Also, readings will vary from one arm to the other, therefore don't switch arms and compare the readings, they will vary. If using the left arm, stay with the left arm.
Item No UAM-881