Yintatech 600W LED Grow Light, Growing Lamp Full Spectrum for Indo...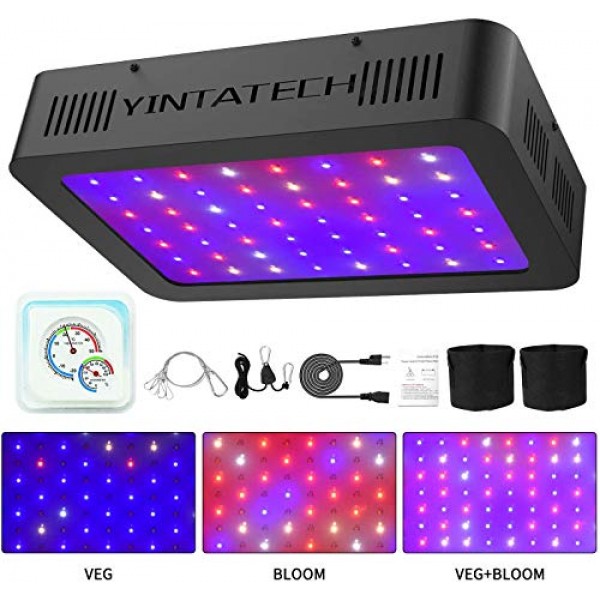 Yintatech 600W LED Grow Light, Growing Lamp Full Spectrum for Indoor Hydroponic Greenhouse Plants Veg and Flower with Double Switch, Daisy Chain, Adjustable Rope Hanger, Hygrometer Thermometer
No Reflector More Safer As we all know that led reflector give the grow light a beautiful look, but it is not heat-resistant and prone to short circuit. Which can cause it to catch fire. So we give up the reflector and ensure safety. What's more, using isolated power supply, relatively linear and non-isolated more secure.
Wide Coverage Low Electric Bill 600W LED Plant Grow Light with 60pcs 30mil Double LED Chips, which core coverage area is 2.8 x2.8ft, maximum coverage area is 3.2x3.2ft. Our plant growing light can replace 3-5 times the power of high pressure sodium lamp, saving 80% of the electricity. Updated LED lamps with machine welding solved the problem of short lifetime of the light.
Full Spectrum and Dual Switch LED grow light Full spectrum design adopts the wavelength of 380-800nm with universal Blue Red IR UV and white light. Promoting all stages of plant Veg and flowers healthy growth. VEG for seedling growth with blue and white LEDs; Bloom for flowering or blooming with red and white LEDs. You can use both VEG and Bloom for a more heavy output to deliver maximum performance from seedling through final flower.
Efficient Cooling System Built-in 2pc high-speed silent cooling fans and metal cooling heat sinks, as well as 3.0mm thickened aluminum base plate, effectively solving the heat dissipation problem and have very low noise when the plant grow light is working. Extend the plant light service life up to 50000 hours.
What You Get 1 x safe 600W LED grow light full spectrum, 1 x 5ft power cord, 1 x hanging kit, 1 x rope hanger, 2 x grow bags, 1 x hygrometer thermometer(For reduce power consumption, we change the lumen lamp beads to 3030SMT SMD lamp beads from 2020. The light not as bright as the previous model, but the photosynthesis effect is same. Please read the pictures of the current style before ordering).