Xprite 15W Led Grow Light Bulb, Red Blue White & IR LED Grow Lamps...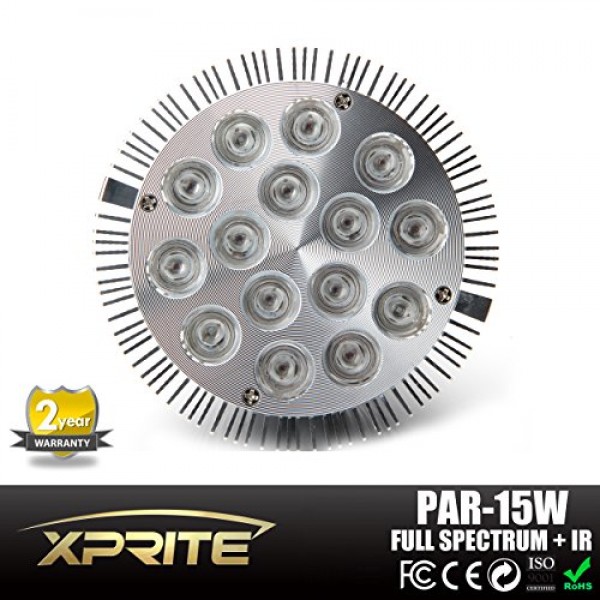 Specification:
Led bulbs' color: Red & Blue & White & IR.
Led Ratio: Red 11pcs ; Blue 2pcs ; White 1pc ; IR 1pc.
LED Quantity: 15pcs
LED Type: 1W & 3W IR Bulb
Output Power: 15W
Spectrum:Red (610-640 nm); Blue (450-470 nm); White 6500K; IR 850nm.
Product Size: 4.75" * 4.75" * 5.25"
Package Size: 5" * 5" * 5.5"
Input Voltage: AC85 ~ 264V
Input Current: 300mA
Working Environment: -20 ~ 40℃,45% ~ 95%RH
Working Frequency: 50 ~ 60Hz
Lumen: 393m
Suggested height: 1.6ft-5ft;
Irradiated area: 1.6-10 square feet.
Lifespan: 50,000 Hours
Application
Ideal for all phases of plant growth, and works well with water solution culture and soil culture. Can be used in house garden, pot culture, garden, sowing, breeding, farm, flower exhibition, bonsai, garden, green house, sowing,breeding, farm, greenhouse cultivation, water soluble breeding, greenhouse cultivation, pipeline cultivation and so on.
Attention:
1. Do not use the lights in dripping water or anywhere where they will get wet, water and electricity can be a dangerous mixture.
2. The working environment for the light is -20 ~ 40℃,45% ~ 95%RH.
3. To protect the light, Pls cut off the power when there is a lightning strike.
4. Don't touch or move when the light working.
Package include:
1 x 15w Xtreme Work LED Grow Light
Xtreme Work hydroponic led grow light have 15 LEDs (2 blue & 11 red & 1 white & 1 IR), ultra bright. Really helps when the plant need extra boost of light, or a few of sun, raining, snowing , dark indoor etc.
This led grow bulb has low power consumption,high luminous efficiency and long service life, the electronics inside are stepping down the voltage. the outside is constructed in a pure heat-sink fashion, It does not generate any noticeable heat even 17hrs a day. keeping your temperatures down perfectly.
These growing lamps emit the wavelength of light which can be fully absorbed by the plants photosynthesis; no energy waste like fluorescent lights etc. 660 and 430nm; 630 and 460nm; 6500K; 850nm are respectively 6 peaks of growth spectrum for maximum chlorophyII A and B production. Sources rich in red light are more efficient and beneficial for photosynthesis, best for blooming and fruit .The Chlorophyll and Carotenoid need blue much, good for the photosynthesis, best for promoting the leaf.
This plant growing light can rapidly improve the health of plant and growing, generally more leaves popping up within 2 weeks of using this growing lamp on a daily basis.
Xtreme Work Led plant growing lighting is designed to fit standard E27 socket, brilliant all alluminum housing, Easy to set up and use - no special lamp needed, a desk lamp will do. Modular assembling, no glue and glass design, very easy for repairment and maintenance. **COMPLETE 2 YEAR WARRANTY**