Wildflower Seeds Edible Flowers Mix - Bulk 1/4 Pound Bag Over 30,0...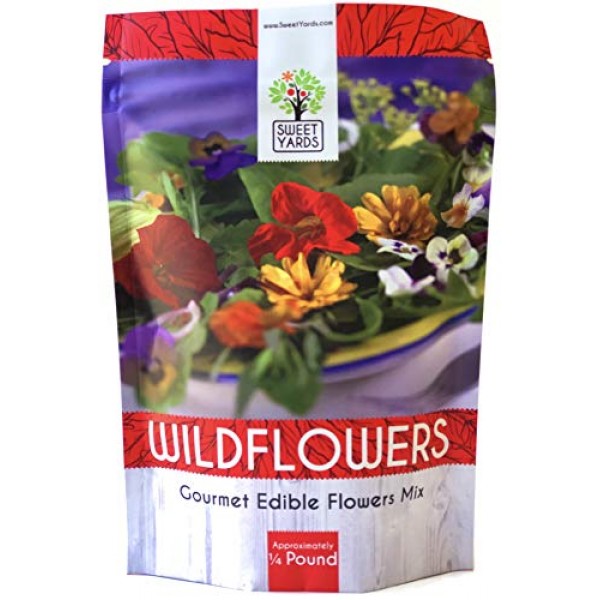 Wildflower Seeds Edible Flowers Mix - Bulk 1/4 Pound Bag Over 30,000 Open Pollinated Annual and Perennial Seeds
Gourmet Edible Flowers Mix - A Flower Patch You Can Eat!
Every flower picked from this beautiful selection of blooms can be eaten! Contains 16 different edible wildflowers that will all bring their beautiful colors and exciting tastes to your dinner plates. Add them to your salads, deserts, soups and more for a truly unique touch.
Contains the following:
-Chicory
-Coriander
-Hollyhock Indian Summer
-Calendula
-Sweet William
-English Daisy White
-Fennel Florence
-African Daisy
-Nasturtium
-Echinacea
-Alyssum
-Basil Genovese
Who says quality and quantity don't mix!?
We want to give you the biggest bloom for your gardening buck, that's why we're now offering bulk sizes of all our favorite seeds. This quarter pound bag has over 30,000 seeds in it, that's enough to plant more than 400 square feet! That's also why we only sell the freshest seeds available. Each packet is filled with our continuously rotating stock of seed, ensuring that the packet you purchase holds fresh seeds ready to plant for the current growing season.
GUARANTEED TO GROW
We're so confident that you'll have success with our seeds that we guarantee they will germinate, or we'll give you a full refund within 30 days of purchase.
BULK ¼ POUND BAG contains over 30,000 fresh seeds! - Enough to cover over 400 square feet.
THE FRESHEST SEEDS available lead to high germination rates, making your gardening easy, successful, and fun!
BULK QUANTITY is great for filling your own seed packets, making seed bombs, or sharing with your friends!
GUARANTEED TO GROW - We guarantee our seeds will germinate or your money back! No questions asked within 30 days.
YOUR EDIBLE FLOWER PATCH contains 16 different wildflowers that can all be eaten! A variety of colors, textures, and tastes!