Wild Birds of Joy Window Bird Feeder with 4 Super Strong Suction C...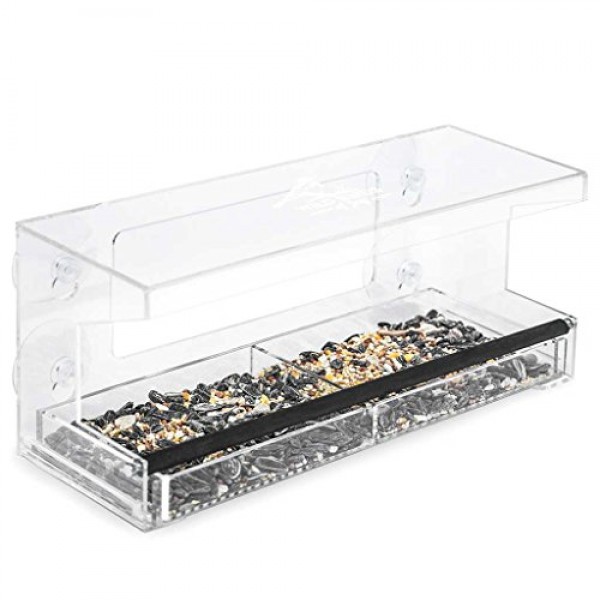 Wild Birds of Joy Window Bird Feeder with 4 Super Strong Suction Cups and Sliding Seed Tray - Large - Clear Acrylic, Easy Clean - View Wild Birds, Finches, Cardinals and Blue Jays Up Close
No More Chasing Birds with Binoculars
If you love the thought of enjoying the view of the most beautiful birds your neighborhood has to offer, this feeder is for you.
We dissected the most reviewed and recommended window feeders and asked ourselves how it could be made better. The result is a feeder that has:
✓4 extra strength suction cups (not the standard 3 with moderate adhesion) so you only need to mount it once
✓An extra deep tray that holds up to 3 cups of seed (not 2 cups) so that 3-4 birds can enjoy at one time.
✓100% extra strength completely transparent acrylic that balances durability with crystal viewing.
... and more!
We here at Wild Birds of Joy make our products with the highest quality materials and the utmost integrity you won't find in any other competing products or brands.
If you love the look of birds enjoying themselves just inches away from you, then you are sure to find good reasons to love this bird feeder.
Make it a perfect gift to give on any occasion:
Holidays
Weddings
Anniversaries
Housewarmings
Mother's Day
Birthdays
Buy It and Try It
Each feeder is backed by our Satisfaction Guarantee. If you're not over the moon happy with it, let us know and we'll refund you 100% of your purchase.
Dimensions: 4" x 5" x 12"
For the utmost peace of mind, think Wild Birds of Joy & choose this Window Mounted Bird Feeder now!
CLEAR VIEWING OF BEAUTIFUL BIRDS IN VIVID DETAIL - With a tray that holds up to 3 cups of seed, watch cardinals, blue jays, finches, juncos, chickadees, nuthatches, titmice, sparrows and more enjoy themselves through this completely see through, transparent feeder.
STICKS TO WINDOWS FOR LONGER - Where most feeders only come with 3 suction cups with moderate adhesion, this feeder is specially designed to come with four extra strong suction cups to keep it securely affixed to your kitchen window for longer. Initial setup may be easy, but we want you to have to do it only once.
BUILT TO LAST IN ALL WEATHER CONDITIONS - Each feeder is made from only the most heavy duty and shatterproof acrylic so that it can last through diverse conditions for many seasons to come.
MAKES FOR THE PERFECT GIFT - Whether for a nature lover, a bird aficionado, curious child or that special someone, this feeder makes for a great gift for the holidays, a birthday, housewarming and more.
WORKS OR YOUR MONEY BACK - We want you to shop confidently with us. That's why we offer an unmatched satisfaction guarantee to go with our best-in-class customer service. If you decide for any reason that this feeder is not right for you or it fails in any way, we will refund 100% of your purchase or replace the product with no questions asked.