VOGEK Grow Light, Tri Head Plant Lamp Auto On/Off Plant Growing Li...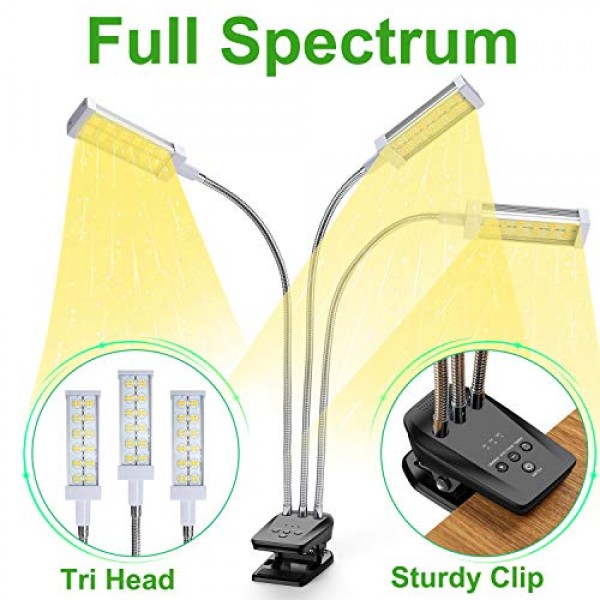 VOGEK Grow Light, Tri Head Plant Lamp Auto On/Off Plant Growing Light with Adjustable Gooseneck & Desk Clip On, 3/6/12H Timer, 72W, 3 Switch Modes 5 Brightness Settings, Suitable for Indoor Plant
Vogek plant growth light is a great appliance to help indoor garden and indoor potted plant growing better without sunlight. The light it provided is full spectrum that can meet needs of various of plant growth.
Features:
3-head design increases larger lighting area, lighting more plants at the same time.
According to different growth needs, the time can be set 3H/6H/12H, and it will be restarted automatically the next time without manual operation.
10 dimming level setting can be adjusted from 10% to 100% to meet the different times of growing circle of plants
Energy conservation and environmental protection.
Full spectrum: 380-800nm
Suggestions:
1. Please install the lamp body in the position you need;
2. The distance between the plant and the lamp is from 30 to 45cm;
3. The plant lamp is better lasts for no more than 12 hours per day.
4. Please retaining enough water when growing
Application:
1. Flowers and plants: tulip, carnation, peony, lily, rose, etc;
2. Vegetables: pepper, eggplant, tomato, cabbage, lettuce, etc;
3. Various succulent plants;
4. Suitable for indoor garden or indoor potted plant
Cautions:
1. Keep it away from rain, snow, fire and any bad environment;
2. Do not immerse it in water;
3. Do not touch the Led light body surface when the power is on;
4. Keep it in a safe place after using and do not put heavy things on it;
5. Do not allow children to touch the lamp head in case of burning when power on.
Package Contents:
1* Led Grow Light
1* Adapter
Timing Function & Auto On/Off: Grow light is very useful and convenient. It can be timed to 3, 6, 12 hours as the plant needs, bring enough but suitable brightness to your plant. With auto on/off function, there is no worry about plant withering when nobody at home. Plant light will be restarted automatically the next day without manual operation.
3 Switch Modes & 10 Brightness Settings: LED growing lamp can provide 10 brightness level from 10% to 100% by pressing plus button or minus button. You also can choose one, two or three lamps on. If you are longing for beautiful plants, the only one you need is owning a plant growing light that can apply for whole growth circle of different plants.
Strong Clip & Adjustable Gooseneck: The 3-head grow light has a strong clip that can be stably and arbitrarily clamped on anywhere, and 3 bendable gooseneck between the clip and the lights which you can move the light accurately to the position you need. With those features, you can use it in anywhere indoor you want, such as bedroom, living room,study, private garden.
Great Efficiency & Friendly Environment: Grow light can offer full spectrum from 380 up to 800nm from which plant can absorb all lights it need. It is important for plant to grow better. This grow lamp can meet needs of various of plant growth. The plant bulbs are replaceable, so you can replace new bulb instead of buying a new light when the life time of bulb is end. This design is friendly to environment
Unique Advantages: Comparing with other similar products.Our plant growing light is made of 144 LED beads and the power is 66W, which can provide strong and uniform intensity of light to plants. This Grow lamp has more larger lighting area that is suitable for whole growth circle. Plant light also has obtained the certification of FCC, CE and ROHS, so the quality is reliable and deserve your trust.