VM 150 Indoor Wall Mount w/Sen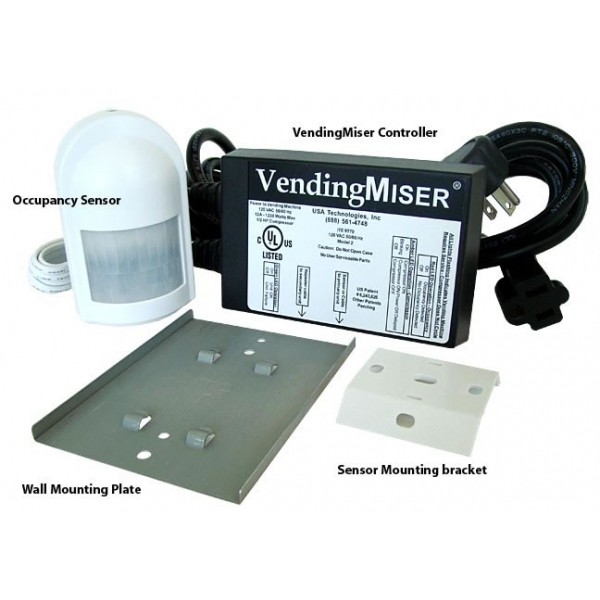 With this 7 outlet Smart Strip Power Strip, the outlets work together, auto-switching your devices on and off automatically, saving you money on your electric bills. Two of the outlets always have power, allowing you to plug-in devices that should never turn off (one of those is transformer-spaced). The other four are "controlled", meaning they will automatically turn off whenever a 10%+ drop in current to the main outlet is detected, and automatically turn on when an increase of 7 watts or more in power to the main outlet is sensed. In other words, plug your computer into the main outlet, and its peripherals into the others. When you shut down your computer, all of the peripherals on the controlled outlets will also turn off. When you turn on your computer, the peripherals will all turn on.
It has a lighted power switch, and is wall mountable. The Smart Strip has two RC filters to help prevent false switching. The 6 foot long power cord is a heavy-duty power cord. It uses 1 watt of electricity when fully energized, and 0 watts when the switched outlets are off. Its surge suppression and power quality-related electrical specifications include:
Note: This BITs power strip requires a 10% drop in current or more. It may not operate properly with already energy efficient low power devices, such as Apple iMacs, Mac Mini G4s, and laptop computers.Vending machines typically run 24 hours a day, whether anyone is likely to use the machine or not. By powering down the machine when it is not needed, energy consumption can be significantly reduced. The VendingMiser uses a Passive Infrared Sensor (PIR) to power down a refrigerated vending machine when no one has been within 25 feet of the machine for 15 minutes. Then it monitors the room s temperature and automatically re-powers the cooling system at one to three-hour intervals, dynamically adjusted based on the ambient temperature to ensure that the product stays cold.
To reduce wear and tear on the machine, VendingMiser s microcontroller will never power down the machine while the compressor is running, eliminating compressor short-cycling. In addition, when the machine is powered up, the cooling cycle is allowed to finish before again powering down.
VendingMiser is a simple external plug-and-play product, being able to be installed on the wall with hand tools. Included with the VendingMiser with Sensor is 1 VendingMiser, 1 Wall Mounting Plate, and 1 PIR Sensor with Mounting Bracket.
To control multiple machines (up to four), a VendingMiser may be purchased without the PIR Sensor, but then use its 10 foot repeater cable to allow it to be controlled from the PIR sensor of the primary VendingMiser.
Electrical Specifications: 115 volts, 50/60 Hz
Maximum Load: 12 amps
Power Consumpion: < 1 watt
Dimensions: 4.5" x 1.75"x 3.25"
Item No EFI-7005.501