Vitashower Effervescent Vitamin C Dechlorination Tablets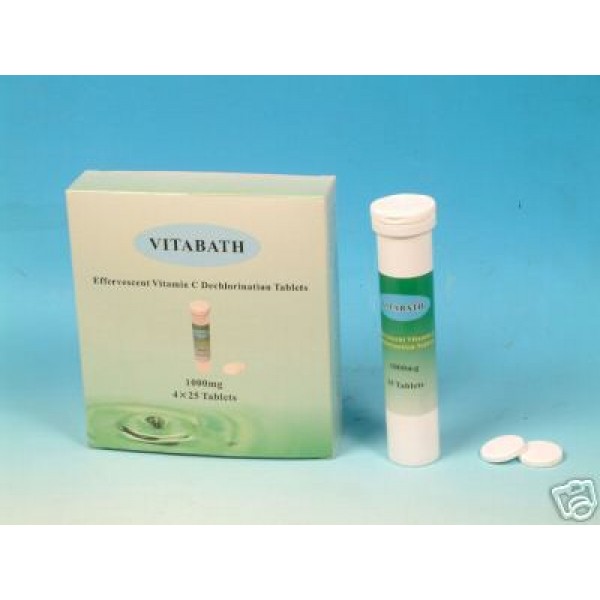 Vitabath Effervescent Vitamin C Dechlorination Tablets
Now you can enjoy a relaxing bath without chlorine or chloramines in you bath water!
Effervescent vitamin C dechlorination tablets are comprised of ascorbic acid, citric acid and sodium bicarbonate. This powerful formula is designed to neutralize chlorine and chloramines in in hot tub or spas. As Vitabath dissolves, the vitamin C will become effervescent and begin to fizz.
One Vitabath effervescent tablet is able to neutralize 1 ppm chlorine and chloramines in 100 gallons of water and completely eliminate the dry itchy skin caused by chlorine in your hot tub or spas. Great for a Luxury Bath!
Product Details
Dechlorination agent: 100% Pharmaceutical Grade Vitamin C
Completely removes chlorine and chloramines from your hot tub and spas
Improve skin and hair
Relief from dry, itchy skin
Meets the dechlorination requirements of the US EPAs Clean Water Act
Environmentally safe
Contains a nutrient which is essential for the health
100% organic
Ingredients
Ascorbic acid, citric acid, sorbitol, sodium dicarbonate.
Suggested Use
One tablet fully neutralizes 1 ppm chlorine and chloramines in 100 gallons of water. Preferably one tablet per bath. Not for human consumption.
Store at room temperature; Avoid excessive heat and moisture.
Frequently Asked Questions
What is the advantage of Vitamin?
Vitamin is the safest and least toxic of dechlorination media. It not only fully neutralizes both chlorine and chloramines but also provide additional nutrients for skin and hair.
Has Vitamin ever been used in dechlorination?
Yes. Vitamin C dechlorination has a lengthy history. It has been used in EPA and APHA methods for the dechlorination of lab samples. In the medical industry, it is the standard for critical applications such as dialysis, where the introduction of chlorinated water or toxic chemical would be catastrophic.
Can I use Vitamin tablets for dechlorination of my fish tank ?
Yes. This tablet is also safe and effective for dechlorination of fish tank water and one tablet is capable of neutralizing 100 Gallons of water.
Can I use Vitamin tablets in laundry ?
Yes. The major ingredient of detergent is chlorine. During the rinse cycle, adding the Vitamin tablets to your washing machine will neutralize chlorine and protect the cloth fibers against chlorine attack.

About Vitashower Corporation
VITASHOWER is the leading manufacturer of Vitamin shower filters. We are dedicated to providing our customers with the finest, healthiest, and highest quality vitamin shower filters and Vitamin dechlorination tablets for bath. Our headquarter is located in Pasadena, California, adjacent to the city of Los Angeles. We use pharmaceutical grade Vitamin which fully neutralizes both chlorine and chloramines as dechlorination agents in shower filters. The newest and most superior technology (patent pending) ever to enter the shower filter market is more environmentally conscious than traditional activated carbon, KDF or sulfur-based chemicals such as calcium (or sodium) sulfite or sulfate. Vitamin is not toxic to humans and is known to boost the immune system and improve skin and hair. This proprietary Vitamin shower filter let you enjoy chlorine-free, odorless, clean and nutrient-rich showers year around.
Item No AR787