AmScope UBW500X02MP Digital 2MP USB Microscope with Endoscope Atta...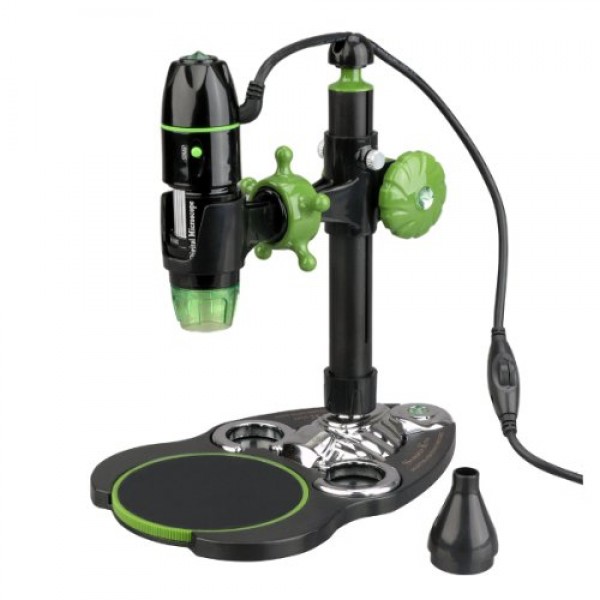 The AmScope UBW500X02MP digital 2MP USB microscope with an endoscope attachment provides 5x-500x magnification and 4x 3D digital zoom, has a USB 2.0 and USB 1.0 compatible output for displaying images and video on a computer, and includes editing software. Its built-in light source has eight LEDs to illuminate specimens. The microscope has a CMOS color sensor, and operates on USB power (cable included). The image capture and editing software provides still image and live video capture and editing capability, including measurement functions. The software is compatible with Windows XP, Vista, 7, and 8, allowing exporting of data to MS Word, Excel, and Outlook. It is also compatible with Mac OS for live view and image capture only. The included table stand has a ball joint that allows 360-degree adjustment of the microscope angle and has a rotatable objective plate for positioning specimens. A digital USB microscope is used in educational, medical, and industrial inspection applications where image capture, detailed records, or documentation is required.
Specifications
Magnification range
5x-500x
Digital zoom
4x 3D
Working range
4-1/2"
Resolution
2MP (1600x1200 effective pixels)
Image sensor
CMOS (color)
Image type
Still image and video display and capture
Light source
Eight built-in LEDs
Microscope stand
Table top with 360-degree adjustment
Power
5V DC via USB port
Computer connection
USB 2.0 and USB 1.1 compatible
File formats
JPG, GIF, BMP, TIF, PNG
Software package
Image capture and editing for Windows XP, Vista, 7, and 8; image capture for Mac OS
Microscopes are instruments used to enhance the resolution of an object or image. Types include compound, stereo, or digital. Compound microscopes use a compound optical system with an objective lens and an eyepiece. Stereo microscopes show object depth in a three-dimensional image. Digital microscopes are used to display an image on a monitor, rather than looking through a lens. Microscopes can have monocular (one), binocular (two), or trinocular (three) eyepieces, with varying magnification abilities. Magnification ability refers to the size of an image. Resolution, also known as resolvant power, refers to the clarity of the image. The interaction between field of view (FOV), numerical aperture (NA), and working distance (WD) determines resolution. Microscopes can control magnification through a fixed focus, or through a range of adjustments. They can also utilize LED, fluorescent, and mirror light sources to help control viewing capabilities. Microscopes are widely used in education, lab research, biology, metallurgy, engineering, chemistry, manufacturing, and in the medical, forensic science, and veterinary industries.
United Scope manufactures microscopy equipment and accessories under the brand name AmScope. The company, founded in 1996, is headquartered in Irvine, CA.
What's in the Box?
AmScope UBW500X02MP 2MP USB microscope with table stand
Endoscope attachment
Software CD
USB 2.0/1.1 cable
Calibration ruler
Cover
Instructions
Digital 2MP USB microscope with USB 2.0 and USB 1.1 compatible output enables inspection of biological specimens, textiles, rocks, stamps, and jewelry in educational, medical, or industrial applications
Captures still images and records and streams real-time live video on a computer
Provides 5x-500x magnification, has a 4x 3D digital zoom, and includes an attachment for endoscopic applications
Built-in eight LED light source illuminates specimens
Table stand with ball joint allows 360 degree adjustment of microscope angle and has a rotatable objective plate for positioning specimens