AmScope SE400 Professional Binocular Stereo Microscope, WF10x Eyep...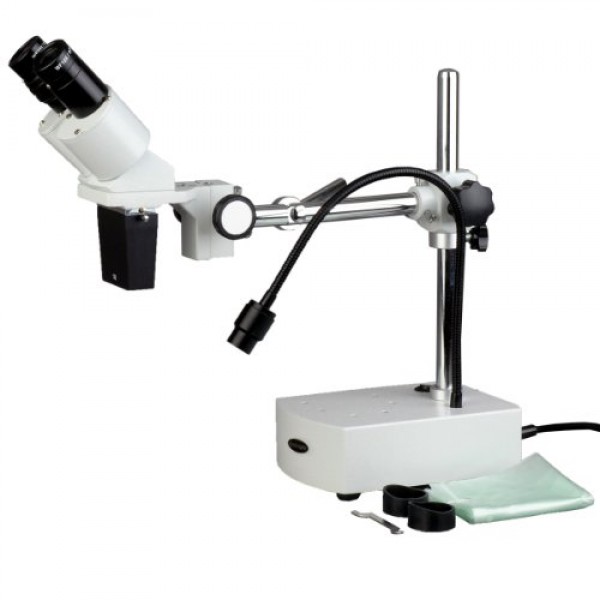 The AmScope SE400 professional stereo microscope has a pair of 10x widefield eyepieces, a 1x objective, LED lighting, and a boom-arm stand. The binocular viewing head has an interpupillary range of 50 to 77mm and a 30-degree inclination to reduce eye and neck strain. The WF10x18mm eyepieces combine with the 1x objective to provide 10x magnification and a longer working distance for inspecting large-scale specimens that require handling or repair. Dioptric adjustment accommodates individual eye-strength differences. A stereo microscope, sometimes called an inspection or dissection microscope, has low magnification and a long working distance that enables users to manipulate the object being inspected.
The 1W LED light is mounted on a flexible gooseneck to enable users to direct the light as needed. An LED light source provides bright, cool light for working with temperature-sensitive specimens. The microscope has a 13.5" pillar that provides a 9" vertical working distance. Bilateral focus eases use for left- and right-handed users. The 17" boom arm has a 12" working distance. The microscope head can be rotated on the X- and Y-axes. All metal construction is durable and stain-resistant.
Specifications
Head
Binocular
Magnification
10x
Objective power

1x
Eyepieces (DIN, 30.5mm)
WF10x18mm
Focus
Bilateral coarse
Microscope stand
Boom-arm stand
Vertical working distance
9" (13.5" overall pillar length)
Boom arm
12" working distance (17" overall length)
Head rotation
X- and Y-axes
Illumination type
Upper, reflected
Light source
1W LED on adjustable gooseneck
Power
110V-120V, UL listed
Microscopes are instruments used to enhance the resolution of an object or image. Types include compound, stereo, or digital. Compound microscopes use a compound optical system with an objective lens and an eyepiece. Stereo microscopes show object depth in a three-dimensional image. Digital microscopes are used to display an image on a monitor, rather than looking through a lens. Microscopes can have monocular (one), binocular (two), or trinocular (three) eyepieces, with varying magnification abilities. Magnification ability refers to the size of an image. Resolution, also known as resolvant power, refers to the clarity of the image. The interaction between field of view (FOV), numerical aperture (NA), and working distance (WD) determines resolution. Microscopes can control magnification through a fixed focus, or through a range of adjustments. They can also utilize LED, fluorescent, and mirror light sources to help control viewing capabilities. Microscopes are widely used in education, lab research, biology, metallurgy, engineering, chemistry, manufacturing, and in the medical, forensic science, and veterinary industries.
United Scope manufactures microscopy equipment and accessories under the brand name AmScope. The company, founded in 1996, is headquartered in Irvine, CA.
What's in the Box?
AmScope SE400 stereo microscope with boom-arm stand
WF10x18mm eyepieces, 30.5mm, one pair
1x objective
(2) Eye guards
LED light
Dust cover
Power cord
Instructions
10X widefield stereo magnification power
9" large working distance
Flexible goose-neck LED light
Two pairs of widefield eyepieces included
Versatile boom-arm stand
Professional stereo microscope with boom arm has long working distance to enables users to perform work or manipulate large items, including circuit boards and dental appliances
Binocular viewing head with pair of 10x widefield eyepieces, adjustable interpupillary distance, and fixed 30-degree vertical inclination to reduce eye and neck strain
1x objective provides low magnification and longer focal length for inspecting large-scale specimens
Adjustable gooseneck LED light enables users to direct the light where needed
9" vertical working distance and adjustable 12" boom arm enables users to adjust the microscope on the X- and Y-axes