U+ME Eco Friendly Organic 3 Peat Pots | 60 Seed Planting Pots + P...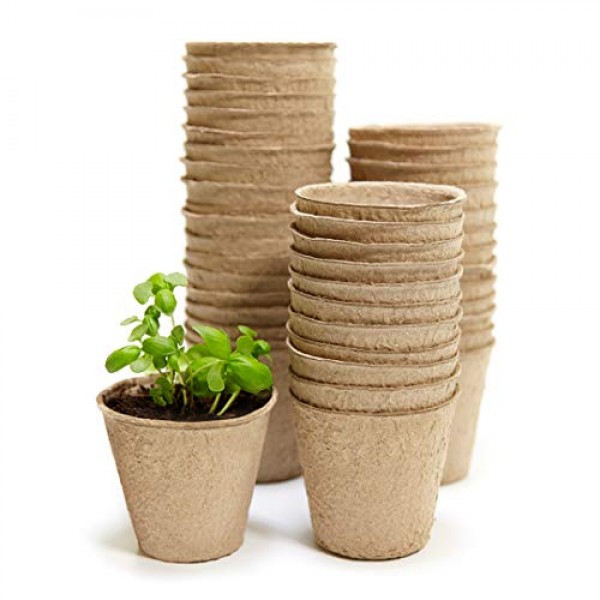 U+ME Eco Friendly Organic 3" Peat Pots | 60 Seed Planting Pots + Plant Labels | Biodegradable Seed Starter for Vegetable Seeds | Herb Garden | Permaculture | Homesteading | Gardening Gifts
Healthy Plants & Healthy Planet
U+ME believes in providing environmentally sustainable products that help gardeners grow strong and healthy plants.
U+ME Peat Pots are the perfect addition to your garden accessories and greenhouse supplies . These mini grow pots or seed pods are designed for seed starting indoors or outdoors. Unlike traditional gardening pots, our planting pots are an eco friendly addition to your germination station.
Each pack contains 60 pots to house 60 seedlings, saplings or clones of your desired plant. Our Biodegradable peat seed raising pots are designed specifically for plants that have fragile roots. Just plant the whole pot: there is no need to tear the bottom off and risk harming your seedlings! When used correctly you will see the roots grow through the peat pot walls, giving a good indication that it is time to plant the entire pot into the soil.
Our plant starter pots / seed starter pods stand the test of time until you are ready to plant your seedlings when used correctly (Please check your emails for your user guide after your item ships). 
When you purchase your Peat Pots from U+ME you are safe with our 100% customer satisfaction guarantee IF and WHEN you follow all instructions in our user guide that is emailed to you after your item ships. Our "Ultimate Peat Pot Success Guide" is filled with loads of hints and tips to ensure you are using our product correctly (Lots of people think they know how to use Peat Pots and they get it all wrong - we are here to fix that).
Contains Everything Here:
60 Organic Peat Pots
10 Reusable Wooden Plant Markers
1 Instruction eBook
Every day, millions of people are finding big and small ways to preserve our resources and protect the Earth. With the U+ME Seed Starter Peat Pots, you contribute to this. We thank you!

SEEDLING POTS: Eco Friendly seed starting 3 inch Peat Pots are the perfect addition to any organic herb garden kit including 10 wooden plant tags.
TODDLER ACTIVITIES: Montessori, Stem Learning, occupational therapy & toddler art supplies. Great addition to any kids gardening set.
PLANT SEEDS: Such as Kale Seeds, Spinach Seeds, Rosemary Seeds, Parsley Seeds or even a basil plant. Our Peat Pots are suitable for all garden seeds.
ORGANIC GARDENING: Say goodbye to plastic pots for plants. Our Biodegradable Pots prevent root shock and encourage stronger roots, germination and more robust growth.
FREE USER GUIDE: Subscribe to Amazon Emails so you don't miss out on our awesome 'no fail' user guide for ultimate Peat Pot Growing Success.