Two 20 Cavity Seed Propagation Kits - Complete with Fiber Soil and...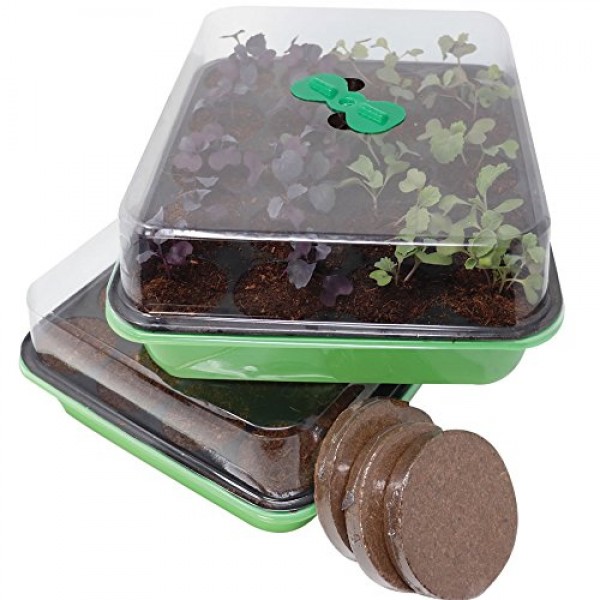 Two 20 Cavity Seed Propagation Kits - Complete with Fiber Soil and Ventilated Greenhouse Tray and Dome. Germinate Seeds Near a Window or Under Lights for the Garden. Sturdy, Reusable Seedling Starter.
The 20 Cavity Seed Tray Kit is easy, convenient and designed for success at any skill level. Great for all ages, get kids involved in growing plants. Easy to follow growing instructions with quality components make it fun to start your garden by seed. Includes Fiber Soil, no need to buy different products like messy growing medium. When your seedlings are grown, just plant them directly into a planter or in your garden.
Ventilated Greenhouse - Seeds need constant moisture to germinate, the sealed lid and clear top ensures moisture and success. Plus you can regulate heat and humidity for even greater success.
Includes Fiber Soil - Seedlings form stronger roots than those grown in traditional potting soil due to increased oxygen in the soil. Fiber Soil contains minimum nutrients, it is recommended to add fertilizer once seedlings have grown.
OUTSTANDING VALUE!!! - The greenhouse trays are high quality and durable so you can use them again and again.
Contains: Two 20 cavity greenhouse trays, 6 quarts of Fiber Soil with a hydrating bag and detailed instructions.
Now, Lets Get Growing!
***CHECK OUT OUR STORE! - Click on the blue Window Garden link at top of page*** SO EASY! - Just hydrate the Fiber Soil, insert the seeds and keep moist inside the warm ventilated greenhouse. Then transplant seedlings into a planter or your garden when they've grown. Comes with detailed easy-to-follow instructions. (Seeds not included)
COMPLETE - Includes 2 high quality and reusable greenhouse trays and covers, creates a warm and moist environment needed for reliable seed germination. Plus 6 quarts of Fiber Soil, an ideal growing medium for seed germination.
VENTILATED COVER - The clear greenhouse cover provides the needed warmth for seed to germinate. But sometimes heat can build up too high. Precisely regulate the internal temperature and humidity with the micro adjustable ventilation opening.
CONVENIENT - INCLUDES FIBER SOIL - No bulky, dirty and cumbersome soil bags. Includes 3 discs, each 4" diameter disc expands with water to make 2 quarts of Fiber Soil. Comes with a hydrating bag for expanding and storing. Made from renewable coconuts, Fiber Soil is the preferred choice of professional growers. Its loose, open structure provides the perfect balance of oxygen and water for seedlings to germinate and thrive.
FASCINATING - Sprouting seed then growing a spectacular Garden, it's amazing to see the results! It's more gratifying and a lot less expensive than buying plants. Better than a craft or a toy for kids, it's a science experiment about the miracles of nature and the power of plants. Now Lets Get Growing!