TickleMe Plant Seeds Packets 2 for Party Bag or Christmas Stocki...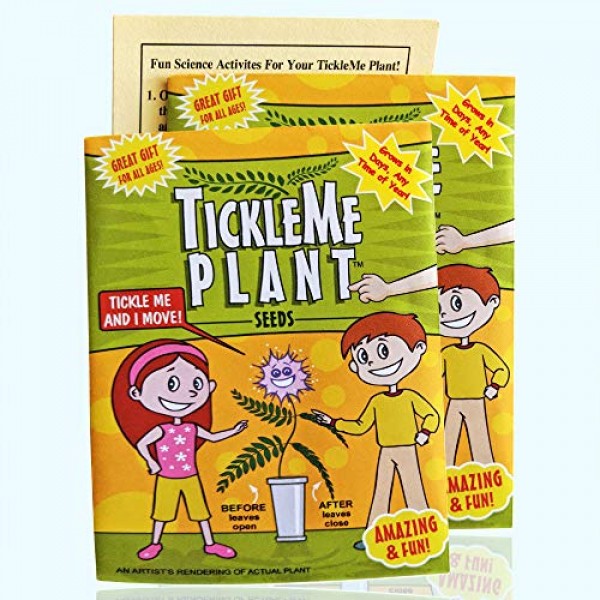 TickleMe Plant Seeds Packets (2) for Party Bag or Christmas Stocking Stuffer! Leave Fold Together When You Tickle It. Great Science Fun, Green and Educational. Easy to Grow Indoors. It Can Flower.
Growing a TickleMe seeds and watching how the leaves fold and the branches droop when tickled will change the way you look at plants forever!
This Bundle includes 2 packets of TickleMe Plant seeds and 10 fun ideas to do with your TickleMe Plant.
The TickleMe Plant will close its leaves and even lower its branches when you Tickle it!
Grow the most exciting house plant ever!

Each bundle contains 2 TickleMe Plant seed packets (Mimosa pudica) Each packet contains 10-20 seeds
Grows in any type soil indoors year round! Start growing your own interactive TickleMe Plant - Order Now!
SEE VIDEO ON THE LEFT of a LIVE TickleMe Plant then start to grow your own. The Most Exciting house plant that closes its leaves and lowers its branches when you Tickle it or blow it a Kiss!
INCLUDES TWO PACKETS OF TickleMe Plant Seeds! Our Fresh Seeds are Guaranteed to grow and for the second set of leaves to move when Tickled!
Unique Party Giveaway Gift that will make everyone SMILE! Easy to mail with just a stamp and envelope.
Grows Indoors any time of the year! Includes 10 fun ideas to do with your TickleMe Plant Amazing, Educational and Fun
Adult TickleMe Plant can produce sparkling pink flowers! If you like nature, plants and or science you will love growing a TickleMe Plant at home!