Biofeedback Stone Home: Software and Games, Relaxation, Meditation...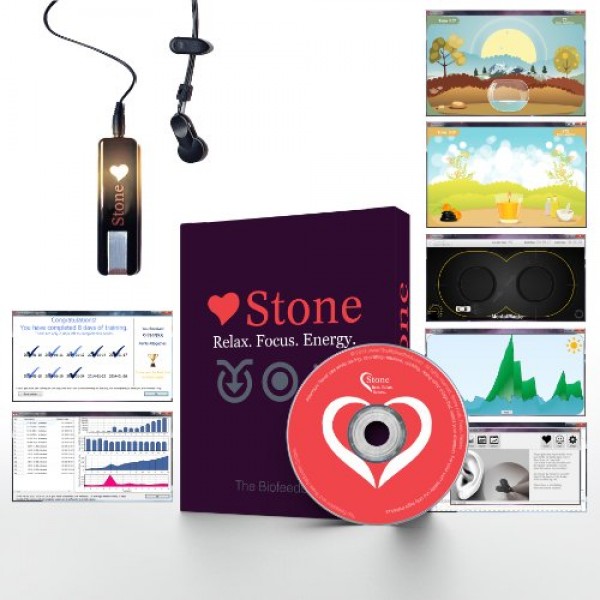 Find out how to Manage Stress, Regain Energy and Concentration the Easy Way.
Unleash the Power of Your Brain: Recharge for Better Health, Mood, Energy and Concentration.
Stone: Center Europe's best-selling biofeedback system for training concentration and focus, eliminating troublesome thoughts, and clearing the mind. Now available directly in the USA.
Who is it for?
For professional psychologists, psychiatrists and trainers to help their Clients, and anyone wishing to better manage stress, thoughts and emotions by self-training at home. (Also suitable for children over 5 years of age).
Hello,
My name is John Williams. My team and I have been designing mind training devices for 11 years and I'm excited to tell you about the newest result of our research-the Stone System. We have already created 3 devices with 5 versions altogether since our beginning, so we know our system works. With numerous contacts established and years of experience in creating the systems in Europe, it is now time to move on to a truly international project. Experts from various countries were engaged to do what they do best. Stone was created across three continents. System design was developed in the USA, devices are assembled in China, and software is developed in Europe. Allow me to explain what the system contains and how it works.
Stone
The system is composed of a device (a computer add-on), games and software. It detects information on your condition through a sensor attached to your ear or finger.
Stone can be used without any preparation and is very easy to use:
1. Attach the sensor and connect it to a computer.
2. Launch a game.
3. Control the game using only the power of your mind. (You are training your mind by playing).
Read More at thebiofeedback.com
Biofeedback games for controlling stress and anxiety and managing thoughts that are getting in the way of you being productive.
Unleash the power of your brain, recharge for better health, and improve your mood, energy, and concentration.
By playing these three games including :Crystal Clear, Inner Energy, and Instant Relaxation, you will learn to manage your stress and your uncontrollable thoughts so you can get more done , waste less time, and as a result have more energy.
You also receive a FREE Bonus Game: Mental Magic where you can have competing with your friends and family and you learn to control your mind and emotions. Just have fun.
Home Edition: all games, up to 3 users, additional users requires Pro version. Statistics include the Stones score and HRV plot only. Other functions are the same as Pro.