TCP Recessed Kitchen LED Light Bulbs, 65W Equivalent, Non-Dimmable...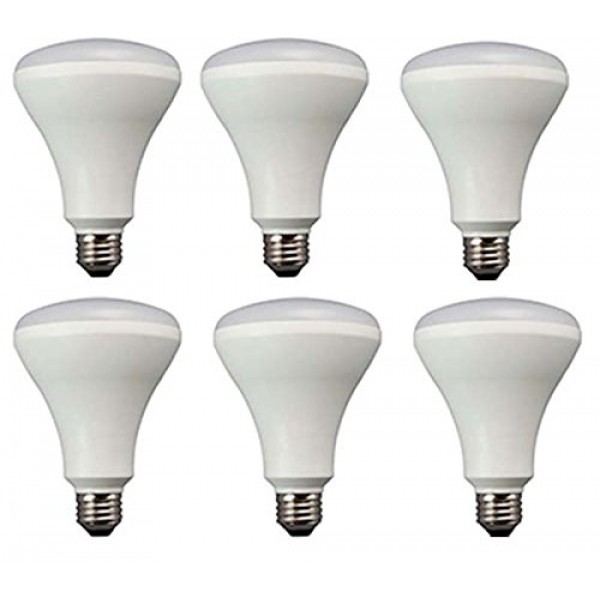 TCP LBR301027KND6 LED BR30 - 65 Watt Equivalent (10W) Soft White (2700K) Flood Light Bulb
Brilliant Company
You are brilliant for making the decision to switch to energy efficient LED lighting from TCP! Our philosophy at TCP is to provide you with the perfect energy-efficient light for your every need. For over 20 years, TCP has delivered cutting edge lighting products to our customers. We control every facet of the design, development and manufacturing process to ensure you get a quality product you can count on.
Brilliant Choice
Have you been turned away from upgrading to energy efficient light bulbs by the way they look? At TCP, we understand. That's why our products are designed to look like everyday light bulbs. We strive to provide aesthetically pleasing bulbs, with the highest quality, at the best value to you.
Brilliant Savings
These TCP LED BR30s are designed to last 18 years or more and will drastically reduce your energy bills while providing the same light quality as traditional incandescent lamps. They consume less than 10 watts of energy and the yearly cost to operate is minimal. Over its lifetime, this TCP BR30 6 pack will save you in energy costs over its traditional incandescent counterpart.
Brilliant Color - Multiple Choices
TCP LED BR30s are the perfect energy saving replacement for standard 65 watt incandescent bulbs. These TCP BR30s give you instant light output with just a simple flip of a switch and are available in multiple colors. The soft white color temperature (2700 Kelvin) gives off a warm full glow ideal for living rooms, dining rooms and recreation rooms. The daylight color temperature (5000 Kelvin) gives off a bright quality light ideal for reading and detail oriented tasks. Also available in dimmable 2 packs, non dimmable 2 packs, and non dimmable 6 packs for your every need.
Brilliant Features
Available in 6-packs, 2-packs, single packs
Available in Dimmable and non-dimmable versions to meet each of your needs
85% more efficient than halogen alternatives
Long life: 20,000 hours
Smooth, clean outside housing
Very low heat generation
Excellent Color Consistency and CRI
Low weight
UL approved for damp location
Shatter resistant
Mercury Free
No Ultraviolet (UV) light - won't cause fading
Brilliant Applications
TCP LED BR30s are designed to seamlessly blend into applications that use a standard medium base such as: Recessed downlights, Track lights, Display lights, Protected Outdoor fixtures, etc. *based on 3 hours average daily usage
| Compare Products | TCP LBR301027KND6 Soft White 6 pk | TCP LBR301050KND6 Daylight 6 pk | TCP RLBR3010W27KD2 Soft White 2 pk | TCP RLBR3010W50KD2 Daylight 2 pk | TCP RLBR3010W27KD Soft White 1 pk |
| --- | --- | --- | --- | --- | --- |
| Available in 6-Pack | ✓ | ✓ | | | |
| Available in 2-Pack | | | ✓ | ✓ | |
| Dimmable | | | ✓ | ✓ | ✓ |
Replaces standard incandescent 65-watt light bulb
Looks like a traditional BR30 bulb
Lifetime: 18.3 years
Operating costs per year: $1.03
Lifetime savings: $744.00
Not Dimmable