Sweet Yards Seed Co. Black Eyed Susan Seeds - Extra Large Packet -...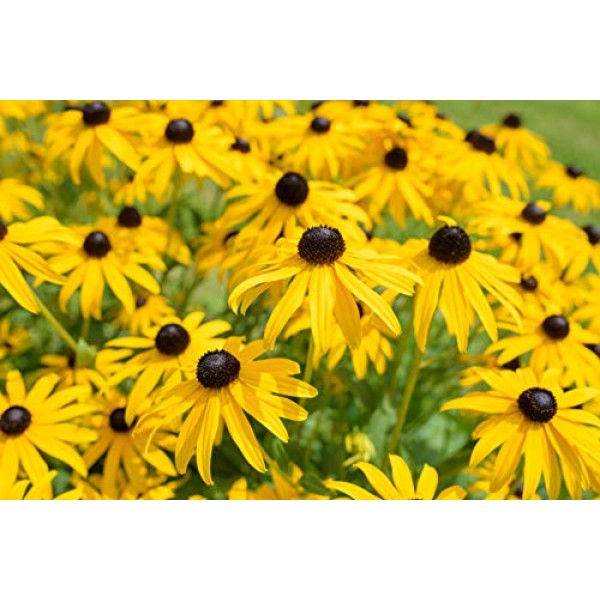 Sweet Yards Seed Co. Black Eyed Susan Seeds - Extra Large Packet - Over 100,000 Open Pollinated Non-GMO Wildflower Seeds - Rudbeckia hirta
Black Eyed Susan - Rudbeckia hirta
This classic American wildflower is native to the eastern United States but can be grown just about anywhere. The whimsical blooms consist of cheerful yellow petals slowly unfolding around a deep brown center. This easy to grow flower is adaptable to poor soils and tolerant of slight shade. A must have for your wildflower garden.
Who says quality and quantity don't mix!?
We want to give you the biggest bloom for your gardening buck, that's why we put over 1 full ounce of seeds in our packets. That's more than 10 times the amount you'll get in a store-bought packet! That's also why we only sell the freshest seeds available. Each packet is filled with our continuously rotating stock of wildflower seed, ensuring that the packet you purchase holds fresh seeds ready to plant for the current growing season.
GUARANTEED TO GROW
Here at Sweet Yards Seed Co. we're focused on providing the highest quality seeds we can to gardeners all over the country. All of our packets are filled out of a continuously rotating stock of new seeds, to ensure you receive the freshest we have. We're so confident that you'll have success with our seeds that we guarantee that it. If you have any issues with our seeds, contact us and we'll provide you with a full refund or replacement along with personalized gardening advice.
EXTRA LARGE PACKET contains over 1 full ounce of pure live seeds (100,000+ seeds!) - Enough to cover 600 square feet.
THE FRESHEST SEEDS available lead to high germination rates, making your gardening easy, successful, and fun!
PREMIUM PACKAGING designed for optimal seed storage, with full planting instructions and reusable zipper - Great for gift giving!
GUARANTEED TO GROW! - We want everyone to be a successful gardener, and we're always here with personal gardening advice. If you have any issue with our seeds, we'll refund or replace them no questions asked!
ALL AROUND PERFECT WILDFLOWER that grows great in varied conditions, provides a long season of stunning blooms, and attracts local butterflies and pollinators!