Texas Oklahoma Wildflower Seeds Mixture - Bulk 1 Ounce Packet - Ov...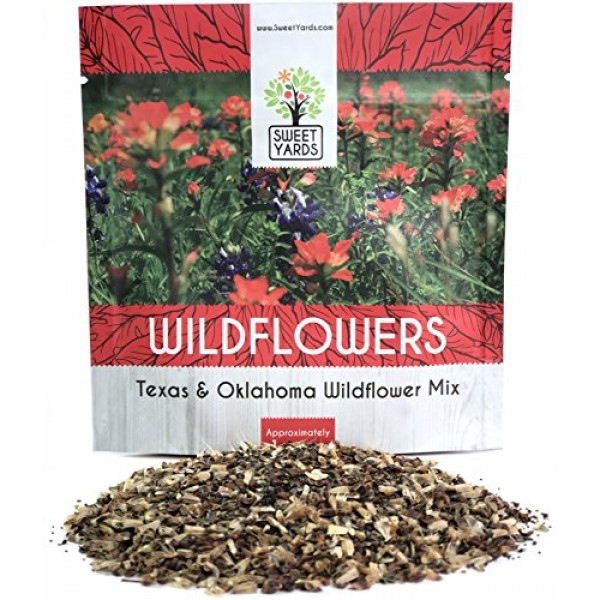 Texas Oklahoma Wildflower Seeds Mixture - Bulk 1 Ounce Packet - Over 15,000 Native Seeds - Open Pollinated and Non GMO
Texas and Oklahoma Wildflower Mix - Native Flowers Just For Your Region!
Texas, Oklahoma, and the surrounding regions are home to a distinctive mix of wildflowers and with this mix you can grow them all yourself! A specialized 22 different annual and perennial wildflowers that will thrive throughout Texas, Oklahoma, and the surrounding region.
Contains the following:
-White Yarrow
-Bachelor Button
-Lance Leaved Coreopsis
-Plains Coreopsis
-Purple Coneflower
-Indian Blanket
-Baby's Breath
-Candytuft
-Baby Snapdragon
-Scarlet Flax
-Blue Flax
-Sweet Alyssum
-Texas Bluebonnet
-Lemon Mint
-Evening Primrose
-Showy Primrose
-Corn Poppy
-Phlox
-Prairie Coneflower
-Clasping Coneflower
-Black Eyed Susan
-Scarlet Sage
Who says quality and quantity don't mix!?
We want to give you the biggest bloom for your gardening buck, that's why we put over 1 full ounce of seeds in our packets. That's more than 10 times the amount you'll get in a store-bought packet! That's also why we only sell the freshest seeds available. Each packet is filled with our continuously rotating stock of wildflower seed, ensuring that the packet you purchase holds fresh seeds ready to plant for the current growing season.
GUARANTEED TO GROW
We're so confident that you'll have success with our seeds that we guarantee they will germinate, or we'll give you a full refund within 30 days of purchase.
EXTRA LARGE PACKET contains over 1 full ounce of pure live seeds (15,000+ seeds!) - Enough to cover 100 square feet.
THE FRESHEST SEEDS available lead to high germination rates, making your gardening easy, successful, and fun!
PREMIUM PACKAGING designed for optimal seed storage, with full planting instructions and reusable zipper - Great for gift giving!
GUARANTEED TO GROW - We guarantee our seeds will germinate or your money back! No questions asked within 30 days.
TEXAS OKLAHOMA NATIVES can be planted wherever you like with this mix of 22 annual and perennial flowers.