Sustainable Sprout SS01 Variety Pack for Planting an Indoor Garden...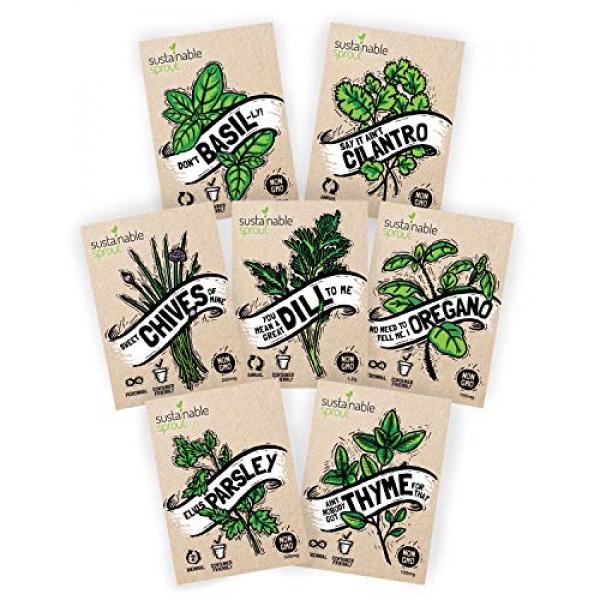 Sustainable Sprout SS01 Variety Pack for Planting an Indoor Garden: Basil, Parsley, Thyme, Oregano, Cilantro, Chives, Dill Herb SillySeed Collection-Over 3500 Seeds 100% Non GMO
Herb Seed Packets with Funny-Sayings, a perfect gift for a home gardener! Our seeds our high quality, premium, 100% Non-GMO USA harvested seeds. At Sustainable Sprout we are passionate about gardening and design. Each of our seed packets come with a unique design and a funny saying that will put a smile on the face of that gardener or home cook in your family. Our slogan at Sustainable Sprout is: "Grow what you eat. Eat what you grow". Our goal is to educate you, the home gardener about the benefits of growing and consuming your own food. Take control of what you eat and realize the benefits of the Sustainable Food Movement. We offer more seeds than some of our competition: Basil Seeds - 400mg (approx 250 seeds) Cilantro Seeds - 1000mg (approx 80 seeds) Chives Seeds - 250mg (approx 200 seeds) Parsley Seeds - 500mg (approx 450 seeds) Dill Seeds - 1200mg (approx 850 seeds) Thyme Seeds - 150mg (approx 1000 seeds) Oregano Seeds - 150mg (approx 750 seeds) *NOTE: Number of seeds is an approximation, the numbers may vary slightly in each package.
100% NON GMO, Open pollinated, Untreated, Non-hybrid seeds. Fresh harvested stock with germination rates that exceed Federal minimums.
MOST UNIQUE SEED PACKET DESIGN on Amazon. Our "SillySeed" collection is the THE PERFECT GIFT for the gardener in your family! 7 varieties of the most essential culinary herb seeds for your organic garden and kitchen: Sweet Genovese Basil Seeds, Plain Italian Parsley Seeds, Thyme Seeds, Oregano, Slow-bolt Cilantro Seeds (Coriander), Chives Seeds, Long Island Mammoth Dill Seeds
PRODUCT OF USA. Sustainable Sprout seeds are sourced right here in the USA. The seed company is certified and monitored by the US Department of Agriculture
100% SATISFACTION GUARANTEE. Get gardening support and advice from our planting experts.
PLANT INDOORS/OUTDOORS: Pots, containers and backyard. FOR BEST PLANTING RESULTS, review our detailed planting instructions!