Stokes Select Sedona Screen Feeder, 4 Feeding Ports, 2.6 Pounds Bi...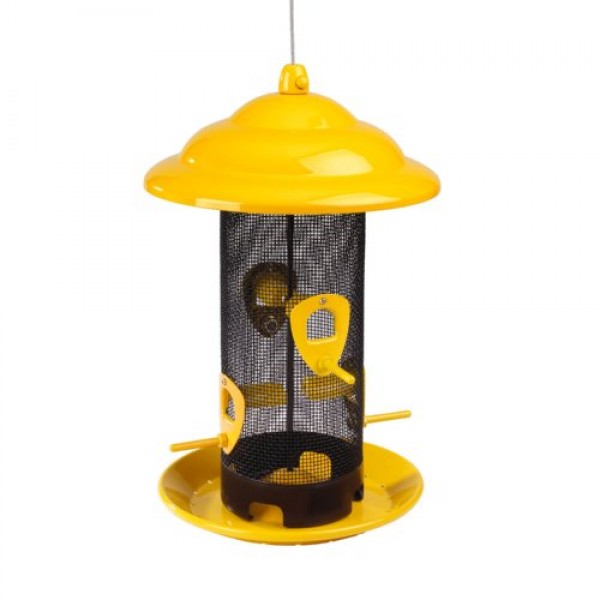 Stokes Select Sedona Screen Feeder, 4 Feeding Ports, 2.6 Pounds Bird Seed Capacity, Yellow
Stokes Select Sedona Screen Feeder
The bright yellow cover, base and perches on this bird feeder is the feature that will attract cardinals and chickadees from all around. Songbirds will flock to our 12-Inch Tube Feeder as it can accommodate up to 2.6 pounds of bird seed, and host multiple birds at once on its four different perches. The mesh tube feeder keeps bird seed levels visible at all times. The internal curved base directs seed to ports to ensure the bird feeder empties and prevents seed build-up. The roof lifts off for easy cleaning, filling and refilling, and the seed tray prevents seed from spilling. Not only is the Sedona Screen Feeder functional, but a delight for you and the birds to enjoy for seasons to come.
Four perches allow several birds to eat simultaneously
Metal base is equipped with drainage holes to keep seed dry and fresh
Feeder can be hung or pole mounted
Tube finch feeder measures: 8" x 12.5" x 8"
Cleaning Your Feeder
Please! For the sake of the birds, keep your bird feeder clean! Dirty feeders spread disease. Soak all parts in a 50/50 solution of white vinegar and water. Use a Droll Yankees Feeder Brush to brush away grime inside the tube.
Classic Brands
Classic Brands is a family-owned company with over 100 years of management and design experience in the birding industry. We are also a company comprised of individuals passionate about birds. We make bird feeding easy! We took careful time and consideration to develop quality birding products to bring more birds and more joy into your yard.
BIRD SEED CAPACITY: Tube bird feeder holds up to 2.6 pounds of bird seed
ATTRACT MORE BIRDS: Ports are designed specifically to dispense bird seed for a variety of songbirds, including Chickadees and Cardinals
PHILANTHROPY: A portion of every purchase is donated to a bird habitat and conservation
WARRANTY: Backed by a limited lifetime warranty
MADE IN THE USA: Designed, manufactured, and assembled in the USA