Sportime Numbered Step-N-Stones, 2-5/8 x 5-1/4 Inches, Set of 6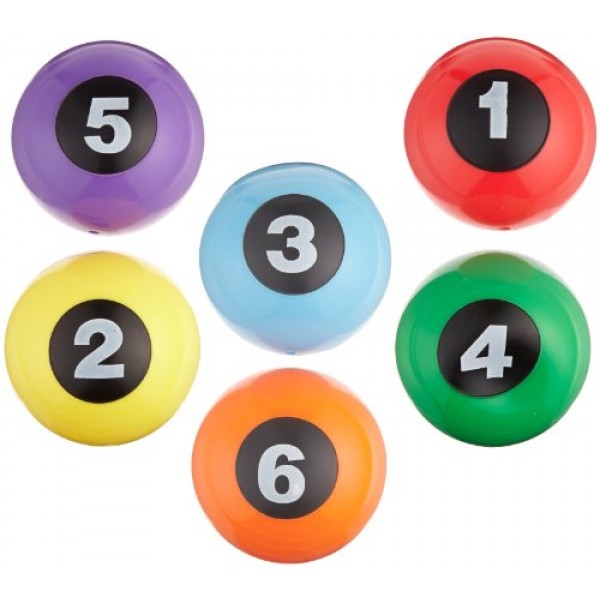 Abilitations walk-on domes help children learn balance and coordination skills. The set has six air-filled domes that flatten when stepped or pushed on, and recover shape when a hand or foot is lifted. Each dome makes an audible sound when air is released for sensory feedback. The domes are in assorted colors--red, yellow, blue, green, orange, and violet--and are numbered 1 to 6 for implementing cognitive activities, such as sequencing challenges, math exercises, or safely crossing a make-believe river. The domes are roto-molded in one piece for durability, and measure 5-1/4"/13.3cm in diameter, and 2-5/8"/6.7cm in thickness. The set includes an activity guide with suggestions for use, and may be suitable for early childhood learning environments and elementary grade level. The product is latex free for individuals with latex allergies.
Special needs products are designed to help improve sensory processing, positioning and mobility, fine motor, and language and communication skills for students with learning challenges. Language and communication products can help individuals improve articulation, vocalization, augmentative, vocabulary, reading, and social skills.
School Specialty provides instructional materials and supplies under dozens of brands, among them Abilitations, Think Math, Delta Education, Frey Scientific, Neo/SCI, Childcraft, School Smart, Sportime, and Speech Bin. The company, founded in 1959, is headquartered in Greenville, WI.
What's in the Box?
Walk-on domes help children learn balance and coordination skills
Six air-filled domes for flattening when stepped or pushed on
Audibly releases air for sensory feedback
Color and number elements for implementing cognitive activities
Roto-molded in one piece for durability