Spider Farmer SF-2000 LED Grow Light with Samsung Chips LM301B & D...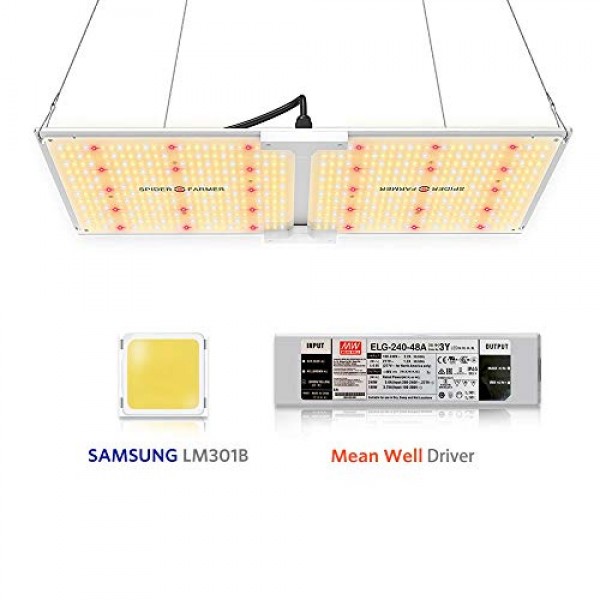 Spider Farmer SF-2000 LED Grow Light with Samsung Chips LM301B & Dimmable MeanWell Driver Commercial White Grow Lights for Indoor Plants Full Spectrum for Greenhouse Hydroponic Veg Flower 606pcs LEDs
Why Choose SPIDER FARMER Full Spectrum SF Lights?
★ With SAMSUNG LED diodes - high energy efficiency 2.7umol/J, provides a much longer service lifetime, you can easily save money without
purchasing lights frequently and pay less in electricity bill.
★ Sunlike Spectrum Light uniformly across the surface and deep into the roots and bottom of canopy for consistent, highest quality crops.
★ Waterproof glue process, electric shock proof covers on wires, Spider Farmer Light takes good cares of you with more considerate design.
★ Fanless design makes your growing life easy and quiet. Perfect for indoor plants growing.
★ Fool-style operation, no need to assembly, simple Plug-and-play. Whether you're a growing newbie or veteran, SF Series lights will make
your plants happy and yield more.
Specification:
Model: SF2000
DB: 0dB
Veg Footprint: 3 x 4 ft
Flower Footprint: 2 x 4 ft
Max Yield:2.5g/watt
Humidity ≤90%
Lifespan: ≥50000 hours
View Angle of LED:90°-120°
Spectrum: 660nm,3000K,5000K and IR 760nm
Replace other red and blue light: 2000W
Frequency: 50-60HZ
Input Voltage: AC100-277V
Lumen:34500Lm±5%@AC120V, 34460Lm±5%@AC240V, 34530Lm±5%@AC277V
Amp: 1.67A @AC120V, 0.84A @AC240V, 0.73A @AC277V
Draw power: 202.3W±5% @AC120V, 196.7W±5% @AC240V, 196.6W±5% @AC277V
Work Temperature:-4°F ~115°F (-20°C ~ 46°C)
Package includes:
1 x SF2000 Grow Light
1 x Stainless Steel Hanger Hook
1 x Adjustable Rope Hanger
1 x User Manual for Installation
1 x Power Cord
Warm Tips:
1.Do NOT touch while in operation.
2.To prevent eye damage, avoid looking directly at the LEDs.
3.In summer or other hot environment, please use a cooling fan to keep a suitable temperature for your plants.
High Energy Efficiency with 2.7 umol/J, only consume 202w, but has same output as fake 2000W Blurple led growing lights. Veg footprint is 3 x 4 ft, Flower is 2 x 4 ft. Free combination, 2 sets SF2000 are equal to 1 SF4000, can used for Veg 6 x 6 ft, Flowering 5 x 5 ft.
Better Canopy Light Penetration: Equipped with SAMSUNG LM301B Diodes - the highest light output LED available at present, create the better canopy light penetration, get 40% higher yields with less energy compared with other red blue lights.
More Safe Process: No Fan ZERO Noise, large areas of solid aluminium heat sink, special protective covers for cables,waterproof LED board, high safety performance with MEAN WELL Driver. 50% longer lifespan compare with other brand lights. Allowing you to grow with confidence.
Sunlight Spectrum: Blue,White,Red and IR (660-665nm,3000K,5000K and IR 760nm), provide everything plants desired in the natural sunlight, turn your seeds into your own supply, produce beautiful high yielding plants. Easy to see the true color of your plants.
Plug & Play: No assembly required. Right out of the box your LED grow light is ready to use. Spider Farmer LED Grow Light provides 3 years of after-service of local maintenance center(US/CA/UK/DE), For any questions, feel free to e-mail us and we will help you resolve it.