Sow Right Seeds - Flower Seed Garden Collection to Plant, 5 Packet...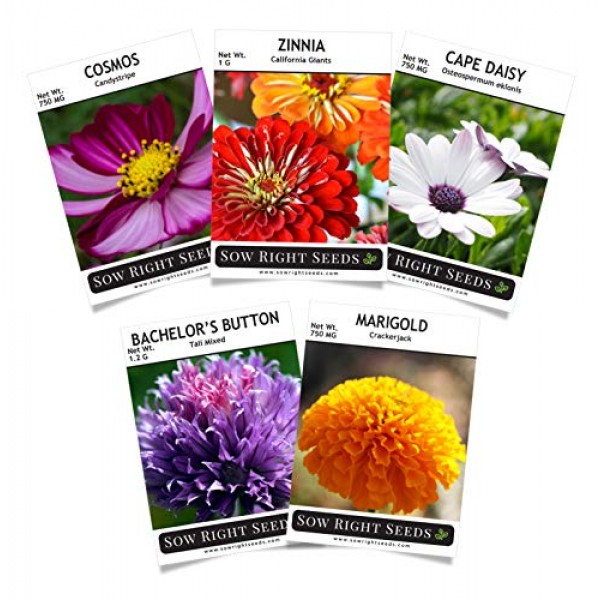 Sow Right Seeds - Flower Seed Garden Collection to Plant, 5 Packets, Marigold, Zinnia, Cosmos, Cape Daisy, and Bachelor Button; Full Instructions for Planting, Gardening Gift
Collection of beautiful flower seeds for your garden.
Collection includes:
Marigold, Crackerjack
Zinnia, Luminosa
Cosmos, Candystripe
Cape Daisy
Bachelor Buttons, Powder Puff
BEAUTIFUL - Full color seed packets of popular flowers including Marigolds, Zinnias, Cosmos, Cape Daisies, and Bachelor Button, Enjoy outside in the garden and indoor as cut flowers.
FUN - Plant wildflower style or in carefully arranged beds, whatever suits your fancy - Each variety is in an individual packet; not a mix of bulk seed - Perennial and annual flowers;
POLLINATOR FRIENDLY - Butterflies love these flowers and will likely pay you many visits. Great way to support your local pollinators.
EASY TO GROW -- Instructions included on each packet with additional growing tips in the "How To" section of our website. Plus we are available to answer your questions as well. If these seed don't germinate, we will happily make it "Right" for you.
SAFE SEED -Sow Right Seeds has taken the Safe Seed Pledge and sells only Non-GMO heirloom seeds that are safe for you and your family.