Solatec Solar Fountain, Solar Powered Bird Bath Fountain Pump 1.4W...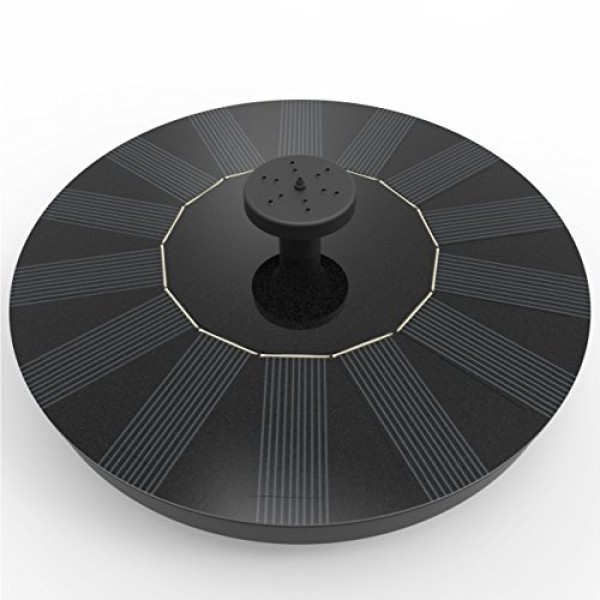 Solatec Solar Fountain, Solar Powered Bird Bath Fountain Pump 1.4W Solar Panel Kit Water Pump,Outdoor Watering Submersible Pump for Pond, Pool, Garden, Fish Tank, Aquarium
Solatec Solar Function Pump – Free Floating Fountain Kit Solar Pump Premium Quality Black Eco Friendly Outdoor Bird Bath Watering Decorating Garden Water Fountain Solatec presents the new Solar Bird Bath Fountain Pump. Make your neighbours feel envious with this stunning bird bath. It is designed specially to make this bird bath truly inimitable. Frostiness and weather-resistant construction makes this perfect piece to endure in outdoors. You can also add sand or water to the base pole. It will bring further firmness if required. It is an attractive stuff on which the charming birds get attracted to. This solar panel is made of premium quality Polycrystalline Silicon. This is a waterproof product and an indispensable pump for your garden. It comes with four different nozzles which can easily change the height of the water. Generally the water rises up to 30-50 cm approx. This is an eco friendly solar fountain pump where battery does not need. You will get an English instruction attached with it. Color available in market is black. This package includes 1 solar fountain pump, 4 nozzle heads, 1 big suction cup with a long fishing line, a user manual, one year warranty and gracious customer service. We cannot guarantee this special price offer and backed by 100% if you are not satisfied with the product. So hurry up and don't settle for anything less. You will be getting 1 year full warranty. Click the 'Add to Cart' button and order your Solar Pump today.
Eco Friendly: It is an extremely competent solar panel. It is controlled with solar power completely. It does not need battery or electricity. It is an Eco Friendly solar pump and saves money.
Sprayer for Different Water Style: There are 4 different types of nozzle heads attached with the pump itself. It helps to change the height of water in different water patterns. The water can rise up to 30-50 cm approx.
Multiple Applications: This eco friendly solar pump is perfect for bird bath, fish tank, small pond, pool, garden, water circulation for oxygen. Your garden would definitely catch all the attention of the passers-by. Let your yard look so amusingly decorated by the solar water pump.
Floating Fountain Pump: It is very easy to use. You just have to do is, make the pump float on the water. Once the solar panel gain sunlight, it will run automatically within a couple of seconds. The brighter it receives the sunlight, better it works.
Suggestion: Make sure you have put enough water in the fountain so that the pump can stay entirely under the water. You should clean the pump on regular basis to avoid the pump get blocked with dirt. The fountain works only when ALL panels are exposed to FULL, DIRECT sunlight. A leaf shading one panel keeps it from functioning. It does not store any energy.