Shelling Home 19.7 Inch Garden Planter Bag,10 Gallon Vegetables Gr...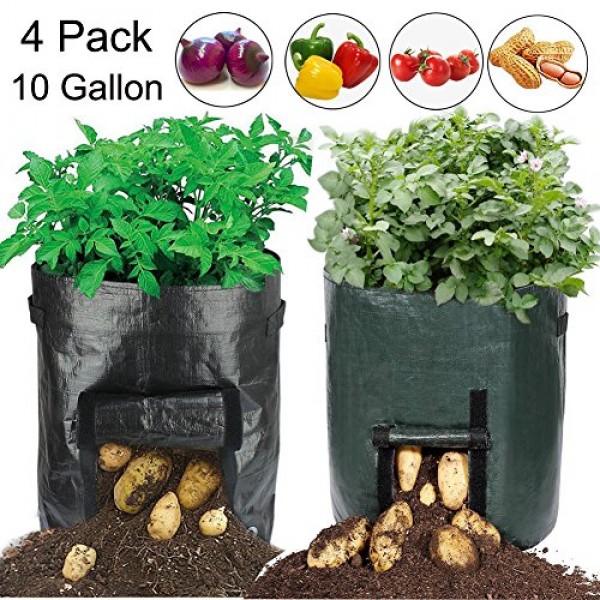 Shelling Home 19.7 Inch Garden Planter Bag,10 Gallon Vegetables Grow Bags with Access Flap and Handles for Harvesting Potato,Carrot & Onion
Material:
PE
Dimension :
13.7" Diameter 19.7" Height,can put about 8-10 seed potato plants in each bag.
Capacity:
10 Gallon
Package Include:
4*Potato Planter Bags   
How to prepare and plant:
Loosen the compost in the bag by shaking and kneading it like a pillow. Shape the bag into a low hummock, making sure compost is evenly spread.
Pierce the base of bag for drainage and cut out the pre-marked planting squares or, if you are planting rows of salads, cut out a long rectangle.
Scoop out compost from each square leaving a hole big enough for the root ball of your plant. Put a plant in each hole and refill around it with compost. The top of each root ball should be just below the top of the bag.
Water well and label.
What to grow
Growing bags are ideal for plants that don't have deep roots, such as tomatoes,  cucumbers, sweet peppers, chilli peppers, aubergines and courgettes. Plant two to three plants in each bag during spring. Alternatively, cut a long panel in the top of the bag and sow salads in rows. Endive, lettuce, basil and rocket can be sown from spring to late summer. If growing salads, prepare the bag as before and cut out a long panel on top of the bag. Plant or sow in rows across the width of the bag.
Aftercare
When taller growing or top-heavy crops are 20cm (8in) high, push a cane into the bag next to each plant. Tie the plant to the cane and attach the cane to a frame. This will prevent the plants from toppling over in the wind or if they become top heavy.
¡ï Breathable Material: The PE material is reusable, durable and non-toxic so that the roots can breathe and grow healthier, it also helps to retain moisture, boosts plant growth and yields
¡ï Drainage Holes: Drainage holes on bottom of the planter allow excess water to escape, strong seams and rip-resistant carry handles allow for easy movement
¡ï Handles & Access Flap: Easy harvest front door for harvesting your potatoes without damaging the plant, sturdy handles for easy transport; Black strip above the flap is intended to hold the flap open when potatoes are harvested
¡ï You can put about more than 10 seed potato plants in each bag. Perfect for Many Vegetables: Great for growing tomatoes, potatoes, carrots & onions
¡ï Dimension: 13.7" diameter 19.7" height, 4 pack Garden Planter Bags.