Sephren System BEST VALUE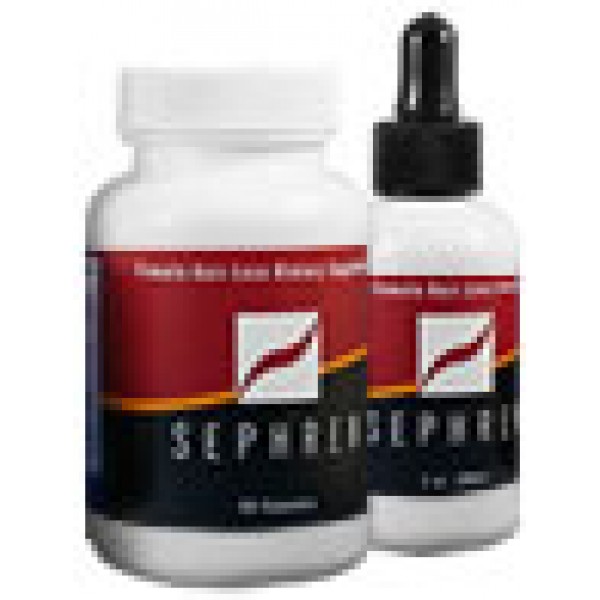 Sephren System (BEST VALUE)


All Natural Hair Loss Prevention and Hair Regrowth
Let's face it, hair can define many things for a woman; personality, attractiveness, success, health, and social status to name a few. Losing it can have a dramatic effect on both a woman's self esteem and social life. Many women experiencing hair loss can feel as if they are losing their confidence. An estimated 40% of women experience noticeable hair loss by the age 40. This hair loss can begin in a woman's early 20's. In the past women had to resort to covering up and hiding hair loss.
Today with advances in our understanding of hair loss we are able to stop hair loss and restore hair growth. Two-Part Hair Loss System Sephren is a unique female hair loss system that combines a hair growth fueling supplement with a growth stimulating topical serum. Sephren Hair Loss Supplement & Topical Serum Prevents Hair Loss and Helps Regrow Hair Promotes Circulation to the Scalp No Harmful Side Effects Conditions and Cleanses the Scalp Produced in an FDA Certified Laboratory All-Natural Formulas Women's Hair Loss Hair loss in women can start as early as the late teens to early twenties. Most commonly, women experience an overall thinning of hair rather than a receding hair line like men do. It is normal for women lose between 50 to 150 hairs in a day. Normally these lost hairs are replaced with new hair, however female hair thinning usually occurs when these hairs are replaced by shorter, thinner hairs. This can be hard to notice at first, but over time it can become very apparent. Many things can cause hair loss in women, but most often, it is the result of a hormonal imbalance or change. Child birth, menopause, birth control, and thyroid conditions can all throw off the delicate hormonal balance.
Effective Female Hair Loss Treatment Designed just for women,
Sephren promotes the best conditions for hair growth. Sephren's dietary supplement gives your hair the nutrients it needs to grow healthy, strong, and beautiful while our topical serum cleanses the scalp and follicles to make way for new hair. In as little as 3 months you can start to notice fuller, thicker hair, and even new hair growth.
Whether you are experiencing advanced hair loss, noticing a slight thinning of your hair, or want to prevent hair loss altogether, Sephren can help. Try Sephren risk free today and see the amazing results it can provide. How Sephren Works Hair loss can be an embarrassing and even upsetting subject for some women because they are often identified by their full heads of long beautiful hair. Sephren uses two all natural formulas to counteract hair loss in women. The combination of a dietary supplement and topical serum attacks hair loss in two important ways. Sephren Female Hair Loss Supplement
This all natural supplement provides your body with the vitamins and minerals it needs to grow strong, healthy, beautiful hair
. Since hair is made up of mostly protein it is important that a quality hair loss supplement includes ingredients that help the body utilize protein. B vitamins such as biotin, B6, amino acids like Para-Amino Benzoic Acid (PABA), and minerals such as magnesium aid in the metabolism of amino acids that make up proteins. Most of us already get enough protein in our daily diets for healthy hair but we aren't always able to use it completely. These nutrients can help your body utilize protein to promote stronger, healthier hair growth. A good B vitamin complex can help your body use its protein sources, but what about the other components that make up hair? Horsetail silica is a key ingredient because it provides other necessary components for hair growth. By providing your body these building blocks for hair growth these ingredients can help stimulate and increase hair growth. Sephren Female Hair Loss Serum Hair loss should not only be treated from within, but topically as well. Topical treatments absorb through the skin to deliver their ingredients directly where they will do the most good.
Sephren's all natural serum for women's hair loss helps condition the scalp, stimulate hair growth, and clear the way for new hair growth. Sephren's jojoba, grapeseed, thyme, and rosemary oils help condition and revitalize the scalp. These ingredients contain antioxidants like vitamins E and C which neutralize free-radicals that can damage cells of the scalp. Natural oils like these moisturize and soften dry, damaged scalp to help restore hair follicles and promote healthy hair growth. Jojoba and grapeseed oils are also very effective carrier oils. Carrier oils promote the absorption of other oils into the skin to further increase their effectiveness. Hair follicles can sometimes become clogged with build-ups of sebum that inhibit hair growth. It's important to clean out this build-up to make way for new hair growth. Lavender, thyme, and jojoba are natural oils that can clear out sebum to make way for new hair growth. In some cases bacteria can inhibit hair growth. These oils also have antiseptic properties that can destroy harmful bacteria and soothe the scalp to create a better environment for hair growth. Natural oils like cedarwood, rosemary, and lavender help stimulate hair growth by increasing blood flow to the scalp. More blood flow allows more of the important nutrients and vitamins to reach the scalp. Increased blood circulation can help awaken previously dormant follicles and promote new hair growth. Using Sephren's all natural supplement and serum treats women's hair loss from two distinct angles. Combining a nutritional supplement which provides needed vitamins with a topical serum that conditions the scalp and stimulates hair follicles give you a complete hair loss treatment system. This two-pronged approach provides a unique and effective treatment for women's hair loss that can have you seeing noticeable results in just three months. You don't have to suffer from the effects of hair loss. Try the Sephren system risk free and see what it can do for you.
Ingredients in Sephren Dietary Supplement


Vitamin B6 (pyridoxine hydrochloride) Vitamin B6 is a water soluble vitamin involved in the metabolism of amino acids and synthesis of proteins. This makes Vitamin B6 a very important component in the formation of new cells including hair. Deficiencies of Vitamin B6 have been associated with hair loss so supplementing this important vitamin can help the body restore hair growth. Biotin Biotin is a B Vitamin that helps produce keratin which is a component of hair. Biotin is also an important part of the production of enzymes which help our bodies utilize fats and proteins so they can be used for energy and building cells. Magnesium (magnesium oxide) Magnesium is a cofactor for over 300 enzymes. It aids in the activation of amino acids and interacts with other nutrients including Vitamin B6 and potassium. This means magnesium helps along multiple body functions and allows it to properly use vitamins. Horsetail Silica (equisetum arvense) Horsetail Silica provides some of the necessary building blocks of connective tissue for building hair. Supplementing horsetail silica can stimulate hair growth and restore shine and strength. Para-Amino Benzoic Acid (PABA) PABA helps improve proteins used throughout the body by aiding in the use and metabolism of amino acids. Supplementation of PABA has been linked to hair growth as well as helping the body to restore proper hair pigment. Other Ingredients: Rice Flour, Microcrystalline Cellulose, Gelatin, Magnesium Stearate, Silicon Dioxide, Water.
Sephren Directions
We recommend the following regimen for at least 3 months to obtain the best results. Sephren Supplement Directions As a dietary supplement take two capsules daily. If you are under a physician's care or taking medication, consult your healthcare professional before using this product. Sephren Serum: Shake well before use. Apply to the affected and surrounding areas of the scalp twice daily. Gently massage into the scalp and be sure the area is clean and dry. For best results apply daily after your normal hair care regimen, but before applying any styling products. This product is for external use only. If irritations occur, use only once daily.
90 day return policy.
Item No SB02