Seedling Plant Heat Mat For Indoor & Outdoor Home Gardening - Wate...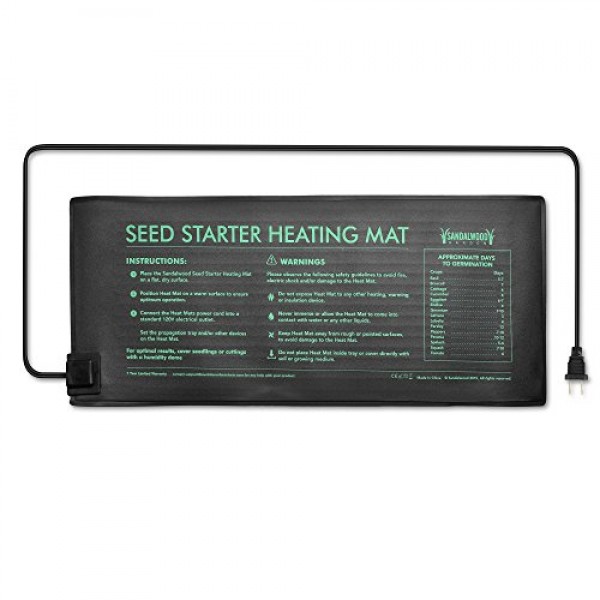 Quickly grow your home garden to its full potential.
For many types of seeds, consistent warmer temperatures are critical to germination. This advanced seedling heat mat from Sandalwood builds on the concept of soil heat wires to bring you the safest, most effective, and most energy-efficient home garden heat source available. By supplying steady warming to the underside of your plantings, this mat encourages successful seedlings and cuttings. The results are remarkable: More rapid germination, bouncier and healthier plants, and riper vegetables than ever before.
Even Heat Spread Across Mat
With its thicker, multilayer construction, our heat mat delivers a larger area of
warmth that is far more precise and effective than soil heating wires. This enables
you to simultaneously warm multiple smaller plants and provide consistent heat.
Optimal Warmth for Germination
As the gentle heat rises from the mat, your plantings' root area are warmed to 10-20°
Fahrenheit above ambient temperatures. This effectively creates the optimal
environment for proper germination without need for your constant monitoring.
Instructions Printed On Mat
Want a quick reference for light, watering and planting information without
removing your gloves? The good people here at Sandalwood have thought
about you, and we've printed some useful instructions right onto the heat mat.
Ready for Indoor & Outdoor Use
Thanks to its 100% waterproof construction, our seedling heat mat retains moisture
and is safe for use with both indoor and outdoor plantings. The included heavy-duty
6-foot power cord is also safe for outdoor use. UL Listed. Rated at 17 watts.
Improved Design & Efficacy Over Heating Wire with Thicker, Multilayer Construction
Warms Root Area to 10-20°F Above Ambient Temperature to Assist in Germination
Increases Seedlings & Cuttings Success for Veggies, Herbs, Flower Seeds, & More
Light, Watering & Planting Information Printed Right On Mat for Quick Reference. UL-Listed Waterproof Construction Safely Retains Moisture; Cord Measures 6 Feet
Perfect for All Your Plant Types: Applied bottom heat is a real boon to virtually any planting in your home garden. Whether you're growing veggies, herbs, or flowers, our advanced heat mat increases the success rate of seedlings and cuttings by a remarkable measure.